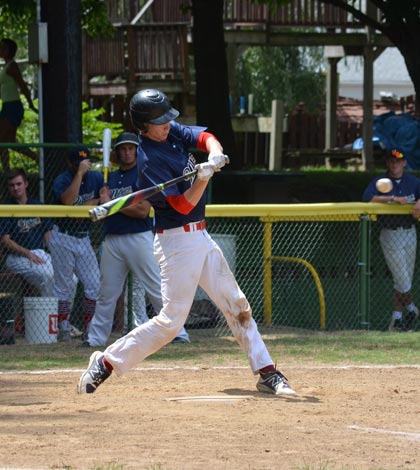 Just a couple more weekends remain in the Mon-Clair League baseball regular season as teams jockey for playoff positioning.
The Waterloo Millers moved closer to clinching the Monroe Division outright yet again, winning all four league games played over the weekend.
The Millers swept the Belleville Rockies on Saturday, winning 8-3 and 4-1, and then pulled off a Sunday doubleheader sweep of the St. Louis Printers.
Waterloo starting pitchers Ben Maurer and Andy Galle kept the potent Belleville bats at bay in picking up mound victories on Saturday, with Aaron Jackson collecting saves in both games.
Jackson also went 2-for-3 with an RBI in the 4-1 win, with Chandler Purcell adding a home run and two RBIs.
Mike Hardin went 2-for-4 with a homer, two RBIs and two runs scored in the 8-3 victory, with Mitchell Krebs also collecting two hits. Ethan Ruff added a triple and three RBIs.
On Sunday, the Millers posted wins of 8-5 and 8-2 over the Printers at SPPS Field.
Purcell went 2-for-4 with a three-run homer in the first inning of the first game. All-star catcher Lucas Wetzler went 3-for-3. Mitchell Krebs and Craig Ohlau added two hits apiece, and shortstop Brad Dillenberger went 1-for-2 with two runs scored.
Ben Klostermeier threw six solid innings for the victory, with Corey Vogel pitching a scoreless seventh inning for the save.
In game two, Krebs continued his solid recent play by going 3-for-4 with three runs. Dillenberger went 1-for-2 with a three-run triple in the second inning.
DJ Dillenberger and Jeremy Rettig shared mound duties in the win for the Millers, who improved to 18-4 in league play. Belleville stands in second place in the division at 13-5.
"It was a very good weekend of baseball for us," Millers manager Vern Moehrs said.
Waterloo hosts Valmeyer on Friday night and will play at Columbia for two games on Sunday.
Dillenberger leads the team at .439 among qualified hitters in terms of season at bats. Since joining the team a quarter of the way into the season, Purcell is hitting around .480 with three homers. In limited action, veteran hitter Ohlau is hitting above .500 this summer.
Valmeyer won three of four games over the weekend to inch upward in the division standings. The Lakers (10-12) split a Saturday doubleheader with the St. Louis Spikes before pulling off a Sunday doubleheader sweep of the Millstadt Green Machine.
Cameron Touchette went 3-for-5 with a home run and three RBIs and AJ Skaer went 3-for-4 with a double and 5 RBIs in an 11-6 win over the Spikes. Mark Nappier added two hits and an RBI and Ian Miller picked up the mound victory.
The Lakers dropped a 4-3 contest to the Spikes in the other game despite two hits apiece from Mitch Meyer and Zach Matthews. Matt Ottsen took the tough-luck loss on the mound.
On Sunday, Valmeyer won 8-5 and 14-7 over Millstadt.
In the 8-5 win, Touchette kept up his hot hitting by going 3-for-5 with two runs. Jeremiah Bergheger added two hits and two RBIs, and Mitch Meyer hit a triple with two RBIs. Jacob Hill and Justin Lilly combined for the mound victory.
In the 14-7 victory, Wes Degener went 3-for-5 with a home run and three RBIs, Matt Reinholz went 4-for-5 with two triples and three RBIs, and Bergheger added a homer and two RBIs. Easton Wallace pitched three strong innings for the mound victory.
Reinholz is hitting .431 with 16 RBIs and Meyer is hitting .413 with 18 RBIs to lead the Lakers offense.
The Lakers will host Belleville for two on Sunday after traveling to Waterloo on Friday.
For Millstadt, Rob Beatty went 3-for-5 with a home run and three RBIs in the 14-7 loss. Cal Kossina and Mitch Matecki collected two hits apiece.
In the 8-5 loss, Tony Kossina went 3-for-5 and Luke Glaeser went 2-for-4 with a triple.
Millstadt (9-9) picked up wins of 6-4 and 5-1 over the Columbia Saints on Saturday.
Beatty, who leads the Green Machine in hitting at .443 with 22 RBIs, went 4-for-4 with a triple in the 6-4 win.
Parker Beine and Andy Barton combined for the mound victory.
Cal and Tony Kossina collected two hits apiece in the 5-1 win, with Cal Kossina going the distance on the mound.
Millstadt plays at Belleville for two critical division games on Friday before hosting Edwardsville for two on Sunday.
Fairview Heights leads the St. Clair Division with a record of 18-4, followed by the Spikes at 15-5.
Monroe All-Stars win
A sacrifice fly off the bat of Valmeyer's Mitch Meyer resulted in a 3-2 win for the Monroe Division All-Stars over St. Clair in last Wednesday's Mon-Clair League All-Star Game at Whitey Herzog Field in Belleville.
The St. Clair Division All-Stars scored twice in the first inning, but the Monroe All-Stars battled back with a run in the fifth when Valmeyer's Matt Reinholz scored on a fielder's choice off the bat of Waterloo's Lucas Wetzler.
They tied the game at 2-2 in the sixth when Belleville's Dan Munoz drove home Waterloo's Brad Dillenberger with a single.
In the ninth inning, Millstadt's Mitch Matecki led off with a walk and advanced to third on a single by Green Machine teammate Tony Kossina. Matecki scored on Meyer's sacrifice fly.
Munoz was selected the game's MVP after going 3-for-4.