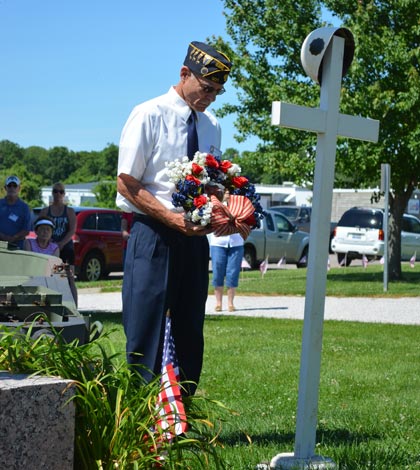 Memorial Day services around Monroe County honored servicemen and women, from the nation's first war through its current engagements, with reminders of the selfless sacrifices made time and again for our freedom.
Large turnouts were reported at Memorial Day programs in Hecker, Waterloo, Valmeyer and Columbia.
In Hecker, U.S. Air Force Staff Sgt. Kaitlyn Foster paid homage to the country's newest soldiers.
"They dedicated their lives to our freedom," Foster said.
The crowd of more than 100 attendees at St. Augustine Catholic Cemetery paid special recognition to 92-year-old Fred Bruss, who flew in 63 combat missions over Italy in World War II as a tail gunner in an A-20 Havoc light bomber.
Throughout the ceremony, musical arrangements, prayers, displays and demonstrations served as reminders of the conflicts the United States has engaged in throughout its history and the men and women who paid the price of the nation's enduring freedom with their lives.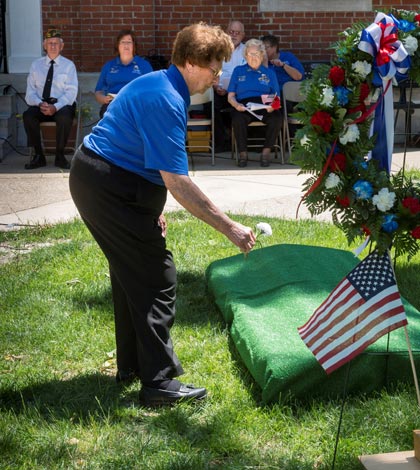 In Waterloo, State Sen. Paul Schimpf (R-Waterloo), a veteran of the U.S. Marine Corps, reminded attendees of the 400 service personnel who have given their lives since he last addressed a Memorial Day gathering at the Monroe County Courthouse — some five years ago when he was an active duty lieutenant colonel.
"We should be humbled that they thought us worthy of their sacrifice," he said, noting it is every American's duty to honor their sacrifices by making this country better. "While our words and deeds can never match the sacrifices they made, we, as individuals and a nation, can at least work to validate their belief that our freedom, our families and our country are something worth dying for."
The Waterloo ceremony also honored those who fought and died in World War I. One-hundred flags were arranged on the ground in the shape of a Roman numeral one to commemorate the country's entry into the war 100 years ago.
Schimpf concluded by asking all those present to honor the fallen of each of America's wars "with your thoughts, your prayers and your deeds throughout the upcoming year."
Valmeyer welcomed speaker Bruce Wissmore, a former U.S. Army intelligence agent during the Vietnam War era, who spoke about the military as the "great equalizer" — no matter one's background, the sacrifices are the same.
"Challenges always come, heroes always come. We don't know who they'll be, and they don't know who they're going to be… They'll be standing at the right place at the wrong time, and their heroism will shine through," Wissmore said.
Whiteside Station Chapter Daughters of the American Revolution Regent Claudia Asselmeier honored the 50th anniversary of the Vietnam War by recognizing veterans who served during that era, whether in country or stateside, who were in attendance and formally welcoming them home.
In Columbia, Monroe County State's Attorney Chris Hitzemann echoed his counterparts at Memorial Day ceremonies around the county by urging attendees to remain ever thankful for the sacrifices and selfless acts of service members.
Columbia American Legion Post 581 officers also performed the traditional laying of the wreath at the Doughboy Monument following the program.
In concluding Hecker's ceremony, Pastor Ivan Horn spoke for Memorial Day program participants the county over.
"Today we have richly honored our service members," Horn said.
(With reporting from Corey Saathoff, Kermit Constantine, Alan Dooley and Sean McGowan)