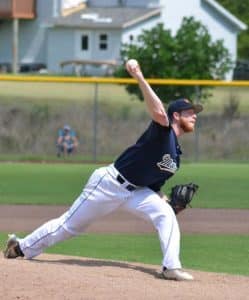 For the first time in the 50-year history of the Mon-Clair League, two St. Louis baseball teams will compete for the playoff championship.
The St. Louis Spikes, who previously won titles in 2008 and 2014, will play the St. Louis Printers in a best-of-three series that begins this Saturday at Valmeyer's Borsch Park. Two games will be played Saturday, with game three to be played Sunday if necessary.
The Spikes shocked the Waterloo Millers at Whitey Herzog Field in Belleville on Sunday, 8-7, with the Printers pulling off an equally surprising 4-3 win over Monroe Division champion Millstadt earlier in the day.
Both the Millers and Green Machine advanced to Sunday's playoff semifinals by virtue of Saturday wins.
Waterloo eliminated Valmeyer, 4-0, at Fairview Heights, with ace pitcher Andy Galle shutting down the Lakers offense.
Millstadt blasted Charleston in Belleville on Saturday, 12-2. Luke Matecki went 2-for-4 with three RBIs and Mitch Matecki added a hit and two RBIs. Cory Renois picked up the win on the mound.
After watching their Monroe Division rivals fall to the Printers, Waterloo jumped out on top against the Spikes.
Millers leadoff hitter Ethan Ruff perfectly placed a bunt down the third base line for a hit. Ruff stole second base and following a walk to Craig Ohlau, catcher Lucas Wetzler singled to right for a 1-0 lead.
The score remained that way with Waterloo starting pitcher Nick Hummel cruising along until the fourth inning. Hummel allowed a leadoff walk, and after two singles by the Spikes, the score was tied 1-1. Millers manager Vern Moehrs brought in lefty reliever Corey Vogel, who hit the next batter with the bases loaded to make it a 2-1 lead for the Spikes.
Waterloo rallied to take back the lead in the bottom of the fourth, with a leadoff single by Wetzler followed by a wild pitch and singles by Garrett Schlecht and Ken Wilson, scoring Wetzler. Schlecht then stole third and scored on a sacrifice fly by Ben Klostermeier, and it was now a 3-2 lead for Waterloo.
But trouble came in the sixth inning, as the Spikes plated five runs to go ahead 7-3. Chris Scoggins, Mike Luczak and Adam Springmeyer collected RBI hits during the St. Louis rally.
Hits by Schlecht, Wilson and Alex Wittenauer cut the lead to 7-5 in the bottom of the sixth.
An RBI double by Scoggins gave the Spikes a very important insurance run in the seventh, and it turned out to be much needed.
Trailing 8-5, the Millers mounted a furious rally in their final at-bat. Ruff led off with a double and Mason King walked. Both scored on an Ohlau single, and it was 8-7. A botched fielder's choice resulted in Waterloo having the tying run at second and winning run at first with just one out.
But Schlecht and Wilson struck out to end the game, and season, in disappointing fashion for Waterloo fans.