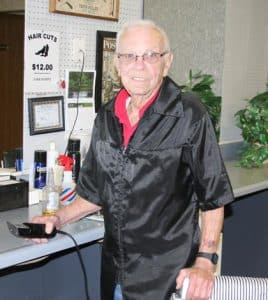 The Flood of 1993 washed away a lot of memories, prized possessions and community pride as Old Valmeyer drowned under the crashing waves of the Mississippi River.
Thousands of people hit reboot on their lives at the time. Some business owners packed up and moved elsewhere, away from the risk of such a surprise natural disaster.
Among those, retiring barber Jake Kohnz of Valmeyer used to give patrons a haircut and a shave at a time when a barber was still considered a prime businessman. Kohnz opened Jake's Barbershop in Valmeyer in 1962, giving him almost 30 years of successful business before the flood.
The decision to set up shop in the Monroe County village came after attending barber school in 1958, working at a shop in Chicago for several years and then spending a short amount of time in St. Louis. Kohnz came in around the time Adolph Rohlfing closed his barbershop in Valmeyer to leave Jake's shop as the only one in the town.
"Even back then in the late 1950s, jobs were a little rough to get, and I was working in St. Louis, and the idea hit me that I would like to be my own boss," Kohnz told the Republic-Times.
When his business took off, Kohnz received a lot of support from the community. The former entrepreneur recalls meeting a lot of good people through the years.
"The community supported me real well," Kohnz said. "There's been a lot of good people. I really can't complain."
That support continued after the flood when he began cutting hair for Main Attraction Salon & Tanning at 227 S. Main Street in Waterloo.
"Even up here, I've really made some good friends," Kohnz said. "Coming in, I really appreciate their patronage and their business."
In 57 years of cutting hair, one of the aspects of the job Kohnz most enjoyed involved meeting several baseball celebrities.
"Bud Rippelmeyer has been a customer since almost day one when I moved (to Valmeyer)," Kohnz said. "They've been in (baseball) a long time, so that was their special topic" of conversation.
Ray "Bud" Rippelmeyer  played in the majors, then moved on to a career in coaching that lasted until his retirement at the end of the 2008 season.
"He was very good and a very interesting guy," Larry Hood of Waterloo said of the retiring barber.
In 1972, Hood remembers going to see Kohnz regularly when he lived in Valmeyer for a short time. Hood continued that tradition even two years later when he moved to Columbia and for a short time after building a home in Waterloo.
Steady business such as that of Hood kept Kohnz going through the years. After the flood, his loyal customers continued to show up at his new place of work in Waterloo.
However, changes such as passing hairstyle fads through the years caused Kohnz to struggle at one time or another to keep his doors open in Valmeyer.
"There were times when it was rough, especially when the Beatles came in," Kohnz said. "They about put me out of business, but I hung in there. It's treated me well, and I've been able to work this long."
When asked how the Beatles threatened his career as a barber, Kohnz elaborated that a lot of boys wanted to grow their hair out to match the style of the English rock band.
"Most of the time, the dad would bring the boy in," Kohnz said. "And of course, the boy didn't want short haircuts, so he'd be sitting there crying, then the dad would say, 'Stop your bawling. You're getting a haircut.' Well, the next time, momma took him to the beautician and that's the last I saw of the little boy."
Kohnz saw the barber trade pick up again for a short time at Main Attraction when men started coming in wanting shorter hair.
"A lot of the women were sort of watching me to see how it was done," Kohnz said.
The one-time business owner will not work for Main Attraction much longer and because of that, he is choosing to part with his shaving cream, clippers and other grooming products for good.
"I don't want to start up some place else again," he said.
Kohnz' retirement becomes official July 1. But as he journeys into the next chapter of his life, he doesn't foresee much taking place for him, other than doing home visits for a few people that are housebound.
"I have no idea," Kohnz said of what he will do. "I'm just going to let the world treat me the way it's been treating me."
Those wishing to get one last haircut from Kohnz can call Main Attraction at 939-8388.
As Kohnz indicated, July 1 isn't only the last day to get a haircut from the long-time barber; that date also marks the end of an era.
"Now, you can see the barber trade is just about done," Kohnz said. "There's not many men around anymore. There's not actual barbers around anymore. A lot of the old things a barber used to do, they don't do anymore.
"A face shave is almost passé."