Lifesavers honored in Columbia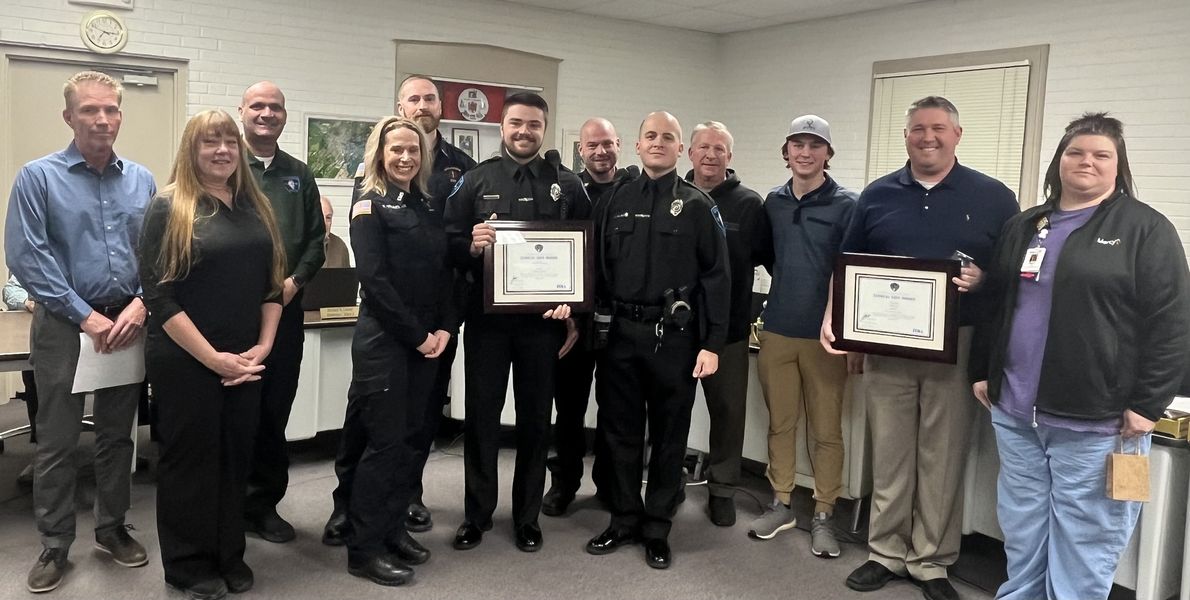 First responders were recognized at Monday night's Columbia City Council meeting for their recent life-saving efforts.
After Columbia Mayor Bob Hill described the timely response and decisive actions of the Columbia EMS and police departments, Jason Fenton of ZOLL Medical Corporation presented "challenge coins" to those involved in the calls.
"We are not only recognizing one life saved tonight, we're recognizing two saved lives tonight. That's just outstanding work," Fenton said, adding, "They don't just give these (challenge coins) out, you have to earn these."
Both events involved cardiac arrest.
The first was in October when Columbia EMS responded to a Waterloo address where 74-year-old Gail Arnold was experiencing a medical emergency.
EMS personnel were able to regain Arnold's pulse and she left the hospital just two days later.
"That's unheard of," said Megan Fitzgerald of the Mercy Hospital South EMS operations team in St. Louis County.
"Part of our role in all of this is making sure that the program can do what it's supposed to do, which is to save patients' lives. We can't do that without the wonderful help of our first responders in our communities we serve," Fitzgerald added.
The other life-saving response was Dec. 5 following the report of a medical emergency for Columbia resident Keith Jackson.
Columbia telecommunications officer Laurie Wilde received the call at 12:30 p.m. Only five minutes later, first responders had employed an automated external defibrillator.
By 12:37 p.m., Jackson's pulse was regained.
"I'd like to thank everyone who showed up, especially the first officer who was on scene within two minutes," Jackson said. "It's quite unbelievable. It's every day I see him doing good things in our community and I never thought I would need anything like this but it hit me hard and hit me quick. Again, I appreciate the things you guys do every day, and especially that day. As we say, God didn't want to take me that day. So, thank you."
Jackson also thanked his son Cohen, who placed the 911 call and began chest compressions immediately.
While Jackson had a much longer recovery time than Arnold, Columbia EMS Chief Kim Lamprecht pointed out "saves that walk out of the hospital are extremely rare."
She added the many who do recover from such events often do not experience the same quality of life as before.
Lamprecht also noted the keys to saving lives – especially during cardiac events – are early CPR and early defibrillation.
In addition to the EMS vehicles, All Columbia police vehicles are equipped with AED machines – a critical component in the response to Jackson's call for service.
Lamprecht thanked the city council for supporting first responders by consistently approving purchases of equipment.
"We have the best paramedics and EMTs in the region," Lamprecht added.
The first responders honored Monday night included CPD personnel Chief Jason Donjon, Wilde, Mike Conrad, Kyle Hannon and Kash Mitchell.
EMS personnel recognized were Casey Jahr, Collin Wehrenberg, Mike Evans, Matt Nungesser, Samantha Green, Bailey Damann, Brandon Layton and Kelly Troutman.