Lemonade with lasting impact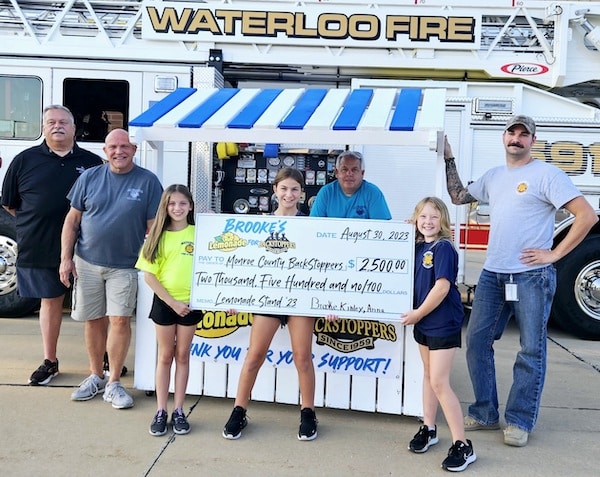 A young girl recently organized a lemonade stand for BackStoppers, donating a sizable check to the organization which supports the families of fallen first responders.
Brooke Blind, 9, is from Waterloo. As her father Matt – a member of the Waterloo Fire Department – described, she's been interested in charity within the community since the COVID-19 pandemic started.
"She's a pretty caring young lady," Matt said. "A few years ago, in 2020 during the pandemic, she had this idea of having a lemonade stand and raising money for a charity."
Brooke organized the first lemonade stand to benefit the Monroe County Humane Society, managing to collect over $300 for the organization.
Matt said Brooke began to express an interest in another lemonade stand earlier this summer, so he offered her a few suggestions and pushed her to research what sort of group she'd like to support.
"We were looking for a new charity that we could donate to, one we haven't done before." Brooke said. "My dad suggested the BackStoppers of Monroe County. He explained to me what that was, and we went on their website and saw a video, and I thought that was a really good idea."
BackStoppers is a St. Louis-based charity which assists the families of police officers, firefighters and EMS personnel who have died in the line of duty.
As their website states, the group has assisted over 180 families in the St. Louis area, paying off debts, assisting with healthcare costs and covering the price of education for any young children in these families – including paying for college tuition.
As a firefighter himself, Matt offered great praise for BackStoppers and the work they do in Monroe County and elsewhere.
"BackStoppers is an awesome organization," Matt said. "The role that they play in the first responder community is pretty critical. They fill a gap, really, that's out there in taking care of these families if their first responder loved one is injured or dies. BackStoppers comes in and helps those families."
Having a first responder for a father and appreciating BackStoppers' mission, Brooke got to work advertising for what would prove to be a brief but successful lemonade stand.
With several videos and announcements on Facebook as well as plenty of word of mouth, the stand – built by Matt and Brooke – was set up for just two hours on Aug. 6 in the Waterloo Fire Department parking lot.
Thanks to the location, advertising and some exceptionally generous donations, Brooke and her friends were able to raise over $2,500 for Monroe County BackStoppers.
Joe Krump, a fellow member of the Waterloo Fire Department and board president for Monroe County BackStoppers, had high praise for the work that Brooke did.
He explained that much of the support for BackStoppers comes from their charity drives and larger events like the annual Budweiser Guns 'N Hoses boxing event held in November, but even a simple lemonade stand can have a big impact.
"We benefit also from the small grassroots things like a lemonade stand," Krump said. "We had a car show about a month ago. We have an annual trivia night… Every little bit helps."
Krump further spoke highly of Brooke and her decision to support BackStoppers.
Fatalities for first responders, he said, are always a threat. As firefighters who take care of their families but don't necessarily have any specific policy in place in the event of their passing, an organization like BackStoppers which steps in to support their family is hugely important.
Krump commended Brooke for appreciating this importance.
"She knows that it is a benefit after a line-of-duty death," Krump said. "Just to raise the awareness in our communities that that exists. Every time our pager goes off, every time someone calls 911, every time an ambulance goes out, those are the risks that these first-responders take."
Brooke herself was quite pleased to have the chance to support BackStoppers. She also voiced appreciation for the fire truck that sat next to her lemonade stand to draw more attention that day.
"It felt really exciting, and it made me feel really proud of myself," Brooke said.
Matt similarly had high praise for his daughter, saying he and his wife are happy to support her, and she's already keen to donate to another charity.
"She's hoping to make it a yearly event if we're able to support," Matt said. "Just being her parents, it is a lot of work for us, but we really support her and wanting to raise money for charitable organizations that are connected to the community. She's already talking about next year, that's for sure."
For more information on BackStoppers, or to donate, visit backstoppers.org.