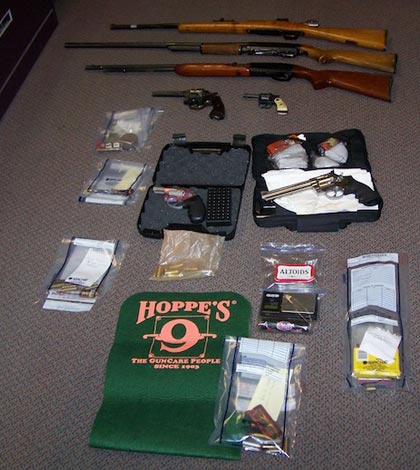 Possible charges are pending after police found several firearms inside a Waterloo residence that a convicted felon had access to in a case that began on Instagram.
The Waterloo Police Department was contacted on Saturday by Waterloo school superintendent Brian Charron regarding several images he had received from concerned parents of firearms posted to Instagram by a Waterloo student.
An investigation into the matter led police to execute a search warrant in the 200 block of Osterhage Drive, where eight firearms, suspected cannabis, and suspected drug paraphernalia were seized, police said.
"During the investigation, it was determined that a convicted felon had access to multiple firearms within the residence," a Waterloo Police Department press release states.
One of the suspected firearms posted on Instagram was determined to be an air-type gun.
Waterloo police are working with Monroe County State's Attorney Chris Hitzemann on the case, with possible felony charges forthcoming.