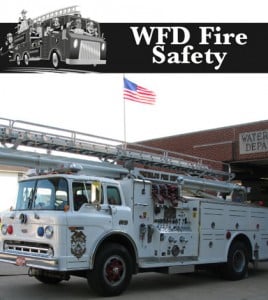 The Waterloo Fire Department, along with Monroe County EMS, would like to inform the public about the Yellow Dot Program, a state-wide initiative designed to provide vital medical information on vehicle drivers and passengers.
Because the first hour following an injury is the most crucial, the Yellow Dot Program provides essential personal health information to emergency responders in order to promptly care for a crash victim. This "golden hour" is critical in the treatment of crash victims, and medical information provided through the program could be a lifesaver.
When a crash occurs, emergency responders (police, fire, EMS) are immediately dispatched to the scene. These responders are usually provided basic information such as location of crash and number of victims. Frequently, minimal personal information is available during this early, most critical time period.
When the first responder sees a yellow dot on the back driver's side window of the vehicle, he or she knows that vital medical information is located in the glove box. This information includes a photograph and personal information which contains name, emergency contact, physician, medical condition, recent surgeries, allergies and current medications.
Please contact the Waterloo Fire Department (939-8009, wfd@ htc.net) or Monroe County Health Department (939-3871) for your free Yellow Dot Program package.
Other helpful info
•The fire department has a limited supply of smoke detectors available for the those in need of assistance. The detectors were made available through a program offered by the St. Louis Fire Department.
•There is a limited supply of nine volt batteries available at the fire station, which were donated by Energizer for residents to change the battery in their smoke detector.
•The fire department is still offering reflective address signs to the public in an effort to make address numbers on properties more visible to emergency responders.
•The WFD reminds homeowners to clean their chimneys for winter and be careful when using fireplaces.
This article was provided by BRETT WIEGAND of the Waterloo Fire Department.