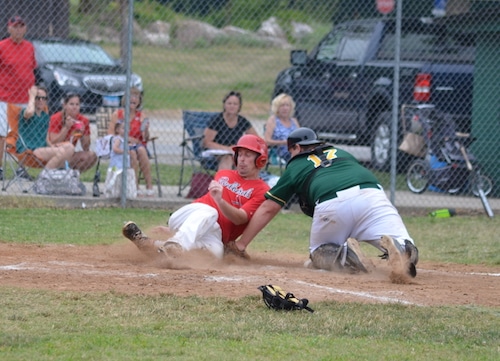 The Fairview Heights Redbirds claimed their first Valmeyer Midsummer Classic championship by blasting the Millstadt Green Machine late Tuesday afternoon, 14-5.
Ex-Waterloo Millers player Sam Wahlig of Fairview Heights was named MVP of the tournament after going 6-for-12 with six RBIs and four runs in his team's three wins.
The Redbirds defeated Cape Girardeau on Saturday, 6-3, and routed Waterloo on Sunday, 13-1, to reach the title game. Millstadt reached the title game by edging the St. Louis Spikes on Saturday, 11-8, and Belleville on Sunday, 8-6. The Kossina brothers, Tony and Cal, had 14 hits between them in Millstadt's two wins.
Tuesday's title game was tied 3-3 before the Redbirds erupted for eight runs in the bottom of the fourth inning. Centerfielder Darrin Pitts made two diving catches for the Redbirds and also robbed a potential home run in the contest.
In the third place game, Waterloo dropped a 10-9 battle to Belleville. The Millers went up 8-3 in the seventh inning, only to see the lead evaporate. Mike Breyman's second home run of the game cut Waterloo's lead to 8-6. The next batter, Dan Munoz, blasted a long home run to left to make it 8-7.
After the Millers had plated one run in the eighth on a sacrifice fly to make it 9-7, the Rockies answered with three runs in the bottom of that inning to take the lead for good.
Waterloo ace righthander Andy Galle went the distance in the Millers' 4-2 win over the St. Louis Printers on Saturday to open tourney play. Cory Lubinski homered for the Millers in the victory.
Read more in this week's print edition of the Republic-Times newspaper.