Millstadt Parks Biathlon and 5K Parks Run
September 17 @ 8:00 am

-

11:00 am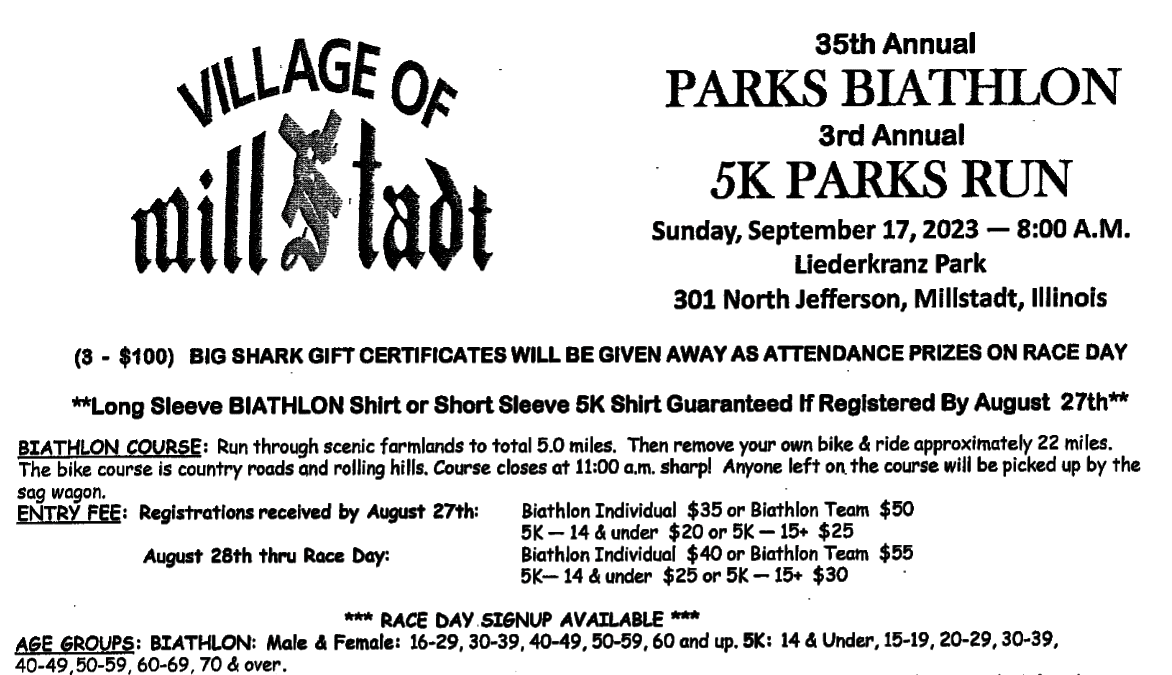 THE 35th ANNUAL PARKS BIATHLON & 3rd ANNUAL 5K IS SCHEDULED FOR SUNDAY, SEPTEMBER 17, 2023 ! ! !
** Long Sleeve BIATHLON Shirt or Short Sleeve 5K Shirt Guaranteed If Registered by August 27th **
Registration can be completed by mail or ON-LINE at: https://raceroster.com/events/2023/74058/millstadt-parks-biathlon-and-5k
(3-$100) Big Shark Gift Certificates will be given away as attendence prizes on race day.
BIATHLON COURSE: Run through scenic farmlands to toal 5.0 miles. Then remove your own bike and ride approximately 22 miles. The bike course is country roads and rolling hills. Course closes at 11:00 a.m. sharp! Anyone left on the course will be picked up by the sag wagon.
ENTRY FEE:
Registrations received by August 27: Biathlon Individual $35 or Biathlon Team $50 |5K 14 and Under $20 or 5K 15+ $25
August 28 thru Race Day: Biathlon Individual $40 or Biathlon Team $55 |5K 14 and Under $25 or 5K 15+ $30
**RACE DAY SIGNUP IS AVAILABLE**
AGE GROUPS:
Biathlon: Male and Female: 16-29, 30-39, 40-49, 50-59, 60+
5K: 14 and under, 15-19, 20-29, 30-39, 40-49, 50-59, 60-69, 70+
AWARDS: Biathlon awards will be presented to 5 male and 5 female age groups including overall awards to the top male and female finishers and biathlon teams, male, female and male/female. 5K awards will be presented to 8 male and 8 female age groups and overall awards to the top male and female finishers.
PACKETS: Early packet pickup on Thursday, September 14 and Friday, September 15 from 9 a.m. to 5 p.m. at the Millstadt Village Hall, 115 W. Laurel St. Millstadt, IL 62260 or morning of race, from 6:30 a.m. to 7:30 a.m. at the park. Races will start promptly at 8:00 a.m. RAIN OR SHINE
INFORMATION: If you wish to confirm your entry in the race, call 618-476-1514. Maps of the course are available at the Village Office or on the website. Food will be available.
BIATHLON RULES: No one under 16 may enter. Proof of age must be presented on the day of the race (example, Valid ID.) All entrants must wear A.N.S.I. approved helmets. Race numbers must be visible at all times. Participants may not receive mechanical assistance during bike race. It is expected that each participant come race ready with a safe bike, own water for bike segment, and no support vehicles on course!
AWARDS CEREMONY WILL BE HELD AT APPROXIMATELY 11:00 A.M.