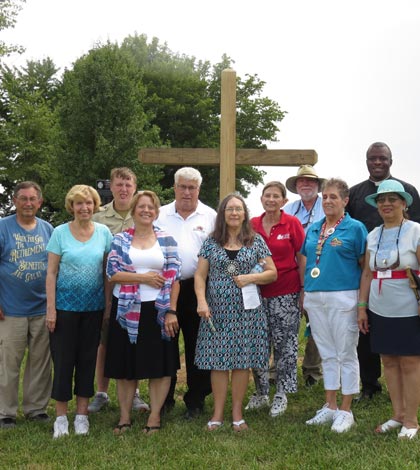 Some of Monroe County's long-gone and mostly forgotten residents were honored Tuesday at their final resting place, thanks to an Eagle Scout project that brought together individuals from several groups that share an important mission.
Michael Rebholz of Boy Scout Troop 323 built a fence and installed a cross at the Potter's Field next to Waterloo's Moore Cemetery for his Eagle Scout project. Assisting with the project were individuals from the city of Waterloo, Waterloo VFW, Monroe County History Museum, Monroe County Historical Society and the Daughters of the American Revolution. They all came together with clergy from several local churches to dedicate the newly designated space and remember those previously forgotten to time and obscurity.
"This project is long overdue," said Waterloo Mayor Tom Smith.
Smith, whose passion for history, the restoration of Waterloo's old cemeteries and recognition of those buried there has spurred several Eagle Scout projects in recent years, was approached by Rebholz about a prospective project.
"I knew I wanted to work with the historical society, and I went to Tom because he knew what needed to be done around here," Rebholz said.
Smith had a list, in fact, of projects like this one that he feels are important to the city. Rebholz chose the Potter's Field project.
Potter's Fields are pauper's cemeteries where the indigent or unknown were buried. Waterloo's is believed to date back to as early as the 1870s.
There are 66 people known to be buried there. Most of them have been identified, thanks to the work of volunteers with the Monroe County Genealogical Society and Monroe County Historical Society. There are likely many more interred there that will never again be known.
But now their resting place is identified and sanctified.
"I've felt over the years that we needed to have this cemetery have a fence of its own, it needed a cross for Christian burials, it needed to have the names recognized," said Smith. "And Michael answered the call."
Father Osang Idagbo provided an opening prayer and also assisted with the blessing of the cross.
The Potter's Field is located next to Moore Cemetery, where Waterloo's Revolutionary War veterans are buried.
Now that Rebholz has earned the highest achievement available in the Boy Scouts of America, he plans to stay involved with the Boy Scouts and help younger scouts.
"I want to help give back for all they gave to me," he said.
Rebholz, of Waterloo, will be a senior this fall at DeSmet Jesuit High School in St. Louis.