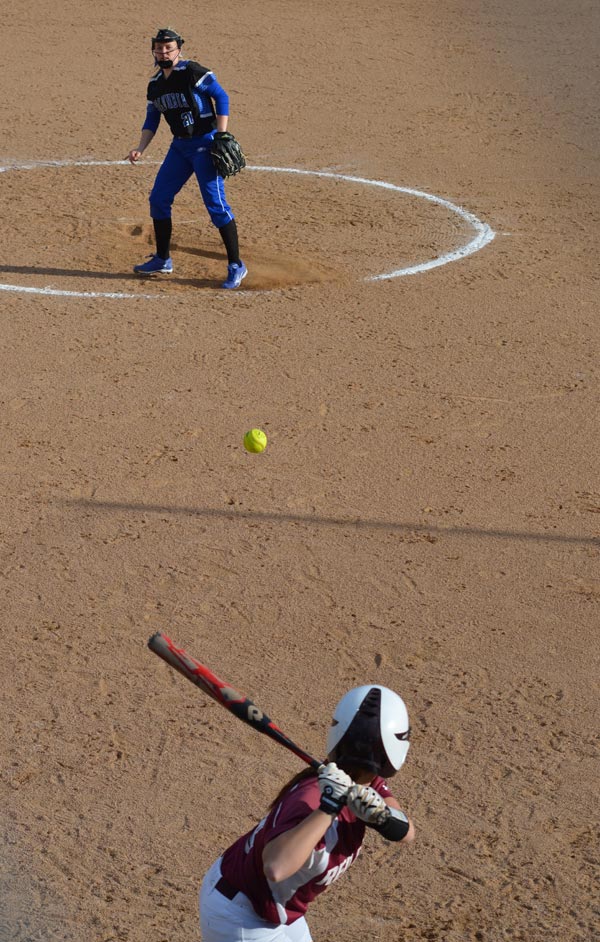 Three local high school softball teams are off to winning starts, while two others are just fighting to stay afloat entering the Easter holiday.
In a battle of two solid teams, Waterloo edged defending Class 2A state runner-up Dupo on
Friday, 7-5. The Bulldogs have now won four straight games.
Waterloo (6-2) held off a furious seventh-inning rally from the Tigers to emerge victorious. Taylor Kaufmann hit a key two-run home run for the 'Dogs, with Erica Schaab adding two hits and two stolen bases.
Lindsay Merritt struck out 11 in the complete game pitching effort.
Last Tuesday, Waterloo trounced Cahokia, 18-0. Taylor Downen went 3-for-3 with a home run and five RBIs. Miranda Brown and Ashley Reeder also homered in the win.
Brown is hitting .421 to lead the 'Dogs, followed by Jessica Baggett at .391 and Downen at .385 with 14 RBIs.
Merritt is 4-1 with a 2.33 ERA.
Waterloo played undefeated Highland on Tuesday and will be at Triad (8-4) on Wednesday before hosting Gibault on Thursday.
For Dupo, Megan Brown went 3-for-3 with a home run and Taylor Esmon added a homer and three RBIs in the loss at Waterloo. Skylure Barlow and MyKenzie Kloess added two hits each for the Tigers.
Dupo (7-3) topped New Athens last Tuesday, 9-3. Cameron Foster went 3-for-5 with two RBIs and Esmon added two more hits and two runs. Brown struck out five in the complete game win.
Brown is hitting .688 with eight home runs and 16 RBIs to go along with her 4-2 pitching mark and 1.68 ERA to lead the Tigers. Esmon is hitting .533 with six homers and 14 RBIs. Barlow is hitting .438 with two home runs, 10 RBIs, 21 runs scored and five stolen bases.
The Tigers played at Lebanon Tuesday and will host Steeleville on Thursday.
Columbia fell from the ranks of the unbeaten last week, but still won three of four recent games.
The Eagles posted a 14-10 win last Tuesday over Carlyle, with Courtney Weilbacher going 3-for-4 with a triple, home run and four RBIs and Britney Edwards adding three hits, three RBIs and a stolen base.
On Thursday, Columbia powered out a 10-3 victory at home over Red Bud. Chelsy Pena hit two home runs, with Kelly Metter and Lexi Touchette also adding homers on the day.
Mikaela Kossina struck out six Red Bud batters in the complete game win.
On Friday, Belleville East handed the Eagles their first loss of the season, 4-3 in eight innings. Columbia carried a 3-1 lead into the sixth inning at home, but the Lancers scored runs in the sixth, seventh and eighth innings to emerge victorious.
Metter went 1-for-2 with a double, and Touchette added a hit and two RBIs in defeat.
Columbia (8-1) bounced right back with an 11-0 win at New Athens on Monday. Metter went 4-for-4 with three RBIs and Weilbacher went 4-for-4 with four runs scored.
Rheinecker posted nine strikeouts in the five-inning affair.
Metter, a senior shortstop, is hitting .581 with six doubles and 14 RBIs to lead the Eagles. Weilbacher is hitting .531 with 17 runs and 10 RBIs. Edwards is hitting .520 with four stolen bases.
Rheinecker is 4-0 with a 2.00 ERA.
"I continue to be pleased with our approach at the plate," Columbia head coach Rhonda Major said. "One thing that stands out the most about this team is that every day it is somebody different coming up big. A lot of teams you have a few batters that have the big hits. With this team, it is somebody different every day.
"This team continues to work hard and get better every day and I am excited to see where continued hard work will take them."
Columbia played at Freeburg on Tuesday and will be at Breese Central on Thursday before hosting Granite City on Friday. On Saturday, the Eagles will take on O'Fallon and Springfield Sacred Heart-Griffin in O'Fallon.
Valmeyer (2-6) lost games to Steeleville, 5-3, and Freeburg, 14-6, last week.
Chelsea Hooker went 2-for-4 with two triples and two RBIs and Lilly Schlemmer went 2-for-4 in Friday's loss to Freeburg.
Schlemmer is hitting .542 with nine RBIs to lead the Pirates. Cierra Goldschmidt is next at .483 with 13 runs scored. Hooker is hitting .458 with nine RBIs.
The Pirates hosted New Athens on Tuesday and will play at Gibault on Wednesday, weather permitting.
Gibault (3-6) lost 29-1 at Triad on Thursday and fell 3-0 at home to Red Bud on Monday.
Lexi Poepper leads the Hawks in hitting at .444 with two home runs and 10 RBIs. Sidney Wightman is hitting .379 with six runs scored.
Gibault played Marquette on Tuesday. The Hawks host Valmeyer on Wednesday and will be at cross-town rival Waterloo on Thursday.