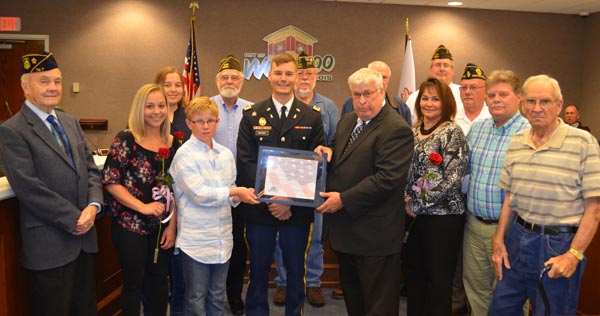 The Waterloo City Council meeting Monday night featured more positive accolades bestowed on the community, as well as the honoring of a returning soldier and good neighbor and the approval of mobile food trucks for special events.
Last month, Waterloo was named the safest city in Illinois by the National Council for Home Safety and Security. Waterloo Mayor Tom Smith told those in attendance Monday night that a new report from SafeWise ranks Waterloo as 12th on its "100 Safest Cities in America" list.
To compile this report, SafeWise used the most recent complete FBI crime data from 2015 to analyze and rank the cities, which all have a minimum population of 10,000 people. To view the list, click here.
"Waterloo values public safety and community," the report states. "On the public safety side, the city has Ayla, the canine police dog who helps cut down on illegal drug use and sales. Waterloo police also partner with the Violence Prevention Center and the Monroe County Court Advocate to help victims of domestic violence stay out of harm's way. On the community side, Waterloo's quarterly Good Neighbor Award recognizes someone in the community who has done an outstanding deed. Each recipient is awarded a certificate and gift card to celebrate the occasion…>>>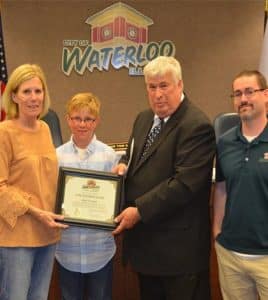 Read the rest of this story and view more photos in the April 5 issue of the Republic-Times. If you don't already receive the paper, you can subscribe by calling 939-3814 or clicking here, or pick up a copy at any of these locations.