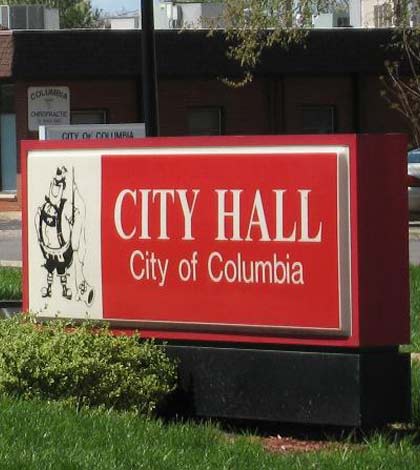 The committee of the whole of the Columbia City Council on Monday night made progress on several issues and items on the city's horizon, including a new residential development on the north side of town and an amendment to a zoning code regarding business on Main Street.
Joe's Towing owners Joe and Karin Callis are seeking approval from the city to move their business from the 900 block of North Main Street to 431 North Main Street, where he would operate in the lot of Charlie's Carstar. But to do so, they require an amendment to the city's zoning code to allow a tow lot to be located in a C-2 zoned area, as well as a special use permit.
Currently, tow and storage lots are only allowed in C-3, and although the current location where Joe's operates, at Neighborhood Service, is not in a C-2 area, it is grandfathered in. The new location provides no such benefit.
The city's Zoning Board of Appeals last week voted to recommend the council approve the zoning change, but the decision is not binding – it is merely advisory.
"Justin (Osterhage, Columbia's zoning administrator) and I did have some concerns about  the ordinance. So on the record we do have some concerns about it being located in the downtown area," said city administrator Jimmy Morani. "And I think the homeowners' concerns are real."
Tammy Reyes, who lives at 435 North Rapp and would be a neighbor of the business, the site of which his already a lot with a five-foot fence, addressed the council about her concerns.
"I'm wondering why I even bother to dump any more money into (remodeling) my house if this is what I have to look at," she said.
Reyes also expressed worries about the potential environmental impact of fluids leaking from damaged cars, and the impact the business would potentially have on both the property value and sellability of her home.
"It's hardly beautifying Main Street," she said. "And we've dumped all this money into this beautification work that's been done here (near City Hall).
"Please, think about if you would want this at your house and look out your bedroom window," she urged the council members.
Karin Callis said the idea that the lot will be full of junked cars is "an illusion."
"Joe's has always been a good neighbor and he will continue to be a good neighbor," she said.
Osterhage added that if the move is permitted, the current fence, which is about five feet high, would have to be increased to eight feet and plants would be used to create a screen.
"No fence or landscaping is going to obstruct my view," Reyes said.
The council members and mayor acknowledged Joe's has a good reputation within the city, but said a concern is that passing this amendment to the zoning code would potentially allow other tow lots to locate their businesses on Main Street, and questioned whether that is the proper area for such businesses.
"You've made a good case for your business," said alderman Mark Roessler. "The question is if the variance is going to be appropriate."
The council ultimately decided to revisit the issue at the next committee meeting on Jan. 26.
Also at the meeting, developer Joe Koppeis updated the council on his plans to develop a new residential complex at Columbia Lakes subdivision.
Several years ago, an out-of-state developer attempted to build a hundreds of rental units and single-family homes adjacent to the current subdivision but his plans were eventually rejected after concerns expressed by nearby residents, the Columbia School District, Columbia's emergency service providers and more.
Koppeis' plan calls for fewer than 40 lots for homes, which will all be at least as large as the current Columbia Lakes homes, as well as owner-occupied villas and condominiums and a pool or community center.
"The whole point of this was to get to 36 homes from the 200 or so apartments (in the previous developer's plan)," Koppeis said.
His intention is to begin building a model home as soon as possible while the site plan is still being finalized among the city and other interested parties.