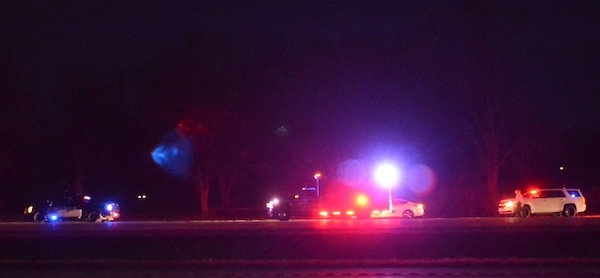 The identity of a man whose body was discovered early Wednesday evening along I-255 near Dupo is now known. The circumstances of his death remain a mystery.
Kyle "Fab" Thomas, 29, of Florissant, Mo., was pronounced dead by a member of the St. Clair County coroner's office at 6:20 p.m. Wednesday.
Illinois State Police is investigating after Thomas' body was discovered by a family member along I-255 northbound near milepost 8 just south of Dupo early Wednesday evening.
The 911 call came in about 5:10 p.m. from a woman who reported that she had located her missing brother-in-law. Thomas' family was searching for him for days, and said they had filed a missing person's report in the county in which he lived.
Police units from Columbia and Dupo responded, as did a Columbia EMS ambulance, to what was immediately labeled a crime scene. Police were observed gathering evidence at this location well into Wednesday night.
ISP informed Columbia police dispatch that troopers had handled a missing persons report involving a vehicle reported abandoned on I-255 near milepost 8 a few days prior that was eventually towed.
Angie Coonce of Dupo told the Republic-Times that she was driving on Old State Route 3 along I-255 on Wednesday when she saw people walking along both sides of the roadway.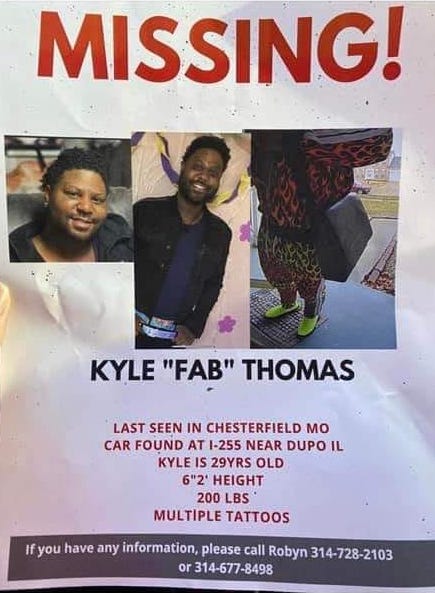 "I thought they had been in an accident or something, so I stopped and asked the mom if they were OK and if she needed help," Coonce said. "She was crying and told me they were looking for her son that had been missing since Sunday and that's where his truck was found with a flat tire and his phone and wallet inside."
Thomas' family later told the Republic-Times that his vehicle was found running and his cell phone, which was left in the car, was out of battery power. He was last seen in Chesterfield, Mo., during the early morning hours on Sunday.
Because his family was unfamiliar with the area, Coonce said she offered to take some of the family's missing person posters, placing them in area gas stations and sharing on Facebook.
"Sadly, a few hours later I found out that they found his body on I-255 close to where his truck was found on Sunday," Coonce said.
ISP offered few details on this case, other than confirming that its Division of Criminal Investigation Zone 6 is conducting a death investigation.
"The investigation is open, ongoing, and no further information is available at this time," an ISP news release states.
ISP has since provided a timeline into its involvement in the case. Read the latest by clicking here.
The family said the fact they had found Thomas, rather than the police, shows a poor effort by law enforcement in conducting a search for him.
"(The police) did a lot of things wrong," said Kacy Thomas, who is Kyle's twin brother. "They failed us."
On Friday, the coroner's office said an autopsy is being performed to help determine a definitive cause of death. As of this time, Thomas' family does not yet have these results.
Thomas was well-known and liked in the St. Louis area, his family said. His bold style, love for music and cheerful demeanor made it so people gravitated toward him, Kacy said, noting Kyle was always "the life of the party."
"His signature look was Fab, it was F-A-B, it was fabulous," Kacy said, referring to Kyle's nickname. "You knew it was him because he would have dyed, different color hair, and he had a loud, bold outfit and shoes every time. He stood out."
"There's not a word in a dictionary that suits him," Kyle's mother Robyn Robinson added.
Thomas was a social worker and was studying psychology at St. Louis Community College – Florissant Valley. He served individuals struggling with anxiety, depression, addiction and more through his job at Provident Crisis Hotline, yet his family said his love for others extended far beyond his job.
"He loved everybody and he was a good person. He didn't cause harm to anybody, he'd give you his glass. He wanted the best for people," Kacy said.
Anyone with information on this incident is asked to call Zone 6 agents at 618-571-4124 or CrimeStoppers at 866-371-8477.