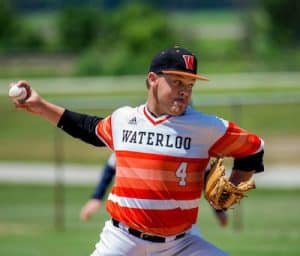 Two teams put themselves in position for regional titles and two others claimed conference supremacy in local high school baseball action this week.
Kaskaskia Conference rivals Valmeyer and Dupo each advanced in regional play.
The Pirates, who won the conference title this year, picked up their 20th win of the season in a 7-0 defeat of New Athens at the Class 1A New Athens Regional on Wednesday and will battle Metro East Lutheran in the regional championship on Saturday morning. Easton Wallace pitched six scoreless innings while adding two hits at the plate; brother Erickson Wallace smacked two home runs for Valmeyer, which is seeking its first regional baseball title since 1971. Easton Wallace is hitting .488 with 35 runs scored and is 5-1 on the mound.
The Tigers (17-8) edged Gillespie, 1-0, in the Class 2A Gillespie Regional on Thursday and will play Piasa Southwestern in the regional final on Saturday morning. Drake Harvell threw a complete game shutout with 10 strikeouts and added two hits at the plate. He is now hitting .516 on the spring. Austin Francis singled home Collin Roth, who doubled, in the third inning for the game's only run.
In another Class 2A game from Thursday, Gibault ended its season at 13-18 with a 6-1 loss to DuQuoin in a regional semifinal at Nashville.
Class 3A teams Waterloo and Columbia start regional play next week but still claimed some hardware of their own this week.
Waterloo improved to 9-0 in the Mississippi Valley Conference with a 6-0 shutout of Civic Memorial on Wednesday. Noah Thaggard threw another gem on the mound and Tyler McAlister went 3-for-3 with three RBIs in the win, which clinched the MVC crown for the Bulldogs. Thaggard is 6-1 with a 2.59 ERA this spring.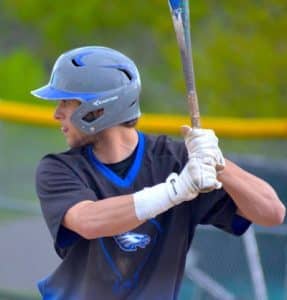 In a non-conference game on Thursday, the 'Dogs dropped a 4-0 contest to large-school powerhouse O'Fallon. Waterloo could only muster two hits against SIUC signee Brad Harrison and committed three errors on defense. The 'Dogs host Civic Memorial on Friday and will close the regular season against Edwardsville at GCS Ballpark in Sauget at 5 p.m. Monday for a final tune-up before the regional. Jordan McFarland is hitting .529 with six home runs to lead the Waterloo offense. McAlister is next at .412 and five homers, and is 7-2 with a 0.62 ERA on the mound.
Columbia defeated Red Bud on Thursday, 6-0, to claim a share of the Cahokia Conference title. Mitch Daniels, Lamont Read, Cameron Touchette and Chris Wagner had two hits apiece for the Eagles and Andrew Hoguet threw five scoreless innings for the win. Columbia (18-11) will host Belleville West for a Saturday doubleheader before entering the Class 3A Mascoutah Regional against Mascoutah on May 26. Hoguet is 5-3 with a 2.39 ERA; Luke Watson is 6-1 with a 3.58 ERA. Touchette leads the team in hitting at .529.
For more recent baseball action, pick up the Republic-Times newspaper.