'80 for Brady' | Movie Review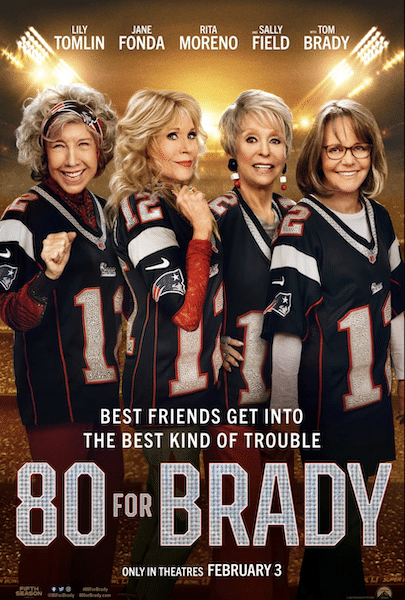 Having always enjoyed the work of Lily Tomlin, Jane Fonda, Sally Field and Rita Moreno, I had high expectations for "80 for Brady." The movie, from screenwriters Sarah Haskins and Emily Halpern ("Booksmart") is directed by Kyle Marvin ("The Climb") and is produced by the film's namesake.
Very loosely based on the friendship of four older ladies from North Attleborough, Mass., brought together by a mutual infatuation with Tom Brady, the film tells the story of Lou (Tomlin), Trish (Fonda), Betty (Field) and Maura (Moreno) and their desire to travel to the 2017 Super Bowl to see their idol play.
Fans of the four legendary stars will back me up when I say these ladies still do great work. In movie and television roles and even in guest appearances or talk show chats, all of these seasoned veterans show us why they are still viable icons. They are every bit as hilarious, have great timing, and obviously have years of training and experience.
When you see any of them, you are reminded of why they are fan favorites: Tomlin and Fonda in their hysterical series "Grace and Frankie," Field's impeccable comic timing in films like "Mrs. Doubtfire" and the underrated "Hello, My Name is Doris," and really, Moreno's appearances anywhere; all of them hold their own, or indeed, rise far above the rest when it comes to comedy. We won't even mention their master-class acting chops in numerous dramatic and award-winning roles.
However, even though they try their darndest to exude professionalism and charm, the writers relegate the ladies to one-note characterizations and even their expertise can't pump up this slow moving, contrived snoozefest. There are some points in the movie where audiences will most likely wonder "What was that all about?" – from corny dialogue to a hot wings eating contest to an awkward dance sequence, as well as the shameless plugging of Microsoft products and the NFL Experience theme park.
Sure, there were some fun moments and pleasures to be had, and if you are going to this movie to get some joy out of seeing these four ladies, they do deliver. Still, I hope this isn't the type of stuff that will be offered to these pros from here on out. They still have it in them to be offered good, meaty stuff.
Heck, maybe the four of them just said "This sounds like fun. Let's do it." I mean, after all, it's evident they all had a good time. I'm also wondering if the writing team, director and producers just said "This is going to be a party. Let's do this, and this, and this. Oh, and let's add this!"
There were still some things I liked about the film. It was good to see the four ladies, of course, in addition to good moments from some bit players, cameos and supporting cast members. I liked seeing Fonda literally let her hair down and agreed to appear as an octogenarian, especially in a vulnerable scene with Tomlin. It was also nice to see the kooky and awesome Sally Kirkland, even though she was underused and her talent was wasted.
The same, sadly, can be said about the four stars, though.
Don't go to this movie with high expectations. Although I would like to see folks return to movie theaters and get back to the days in which we "went to the movies," I can't in good faith ask you to spend money on a ticket and a $22 junior popcorn/soda combo. If you must, watch this one on a streaming service or better yet, just wait until it's offered somewhere for free. You won't miss much, and you'll be able to make your own popcorn.
I regret to say my grade for this one is a very generous C-, only rising above a failing grade due to the A+-caliber stars, which still made it enjoyable.
"80 for Brady" opens in theaters Friday, Feb. 3, and is rated PG-13 for drug use, suggestive dialogue, and profanity. Running time is 1 hour and 38 minutes.