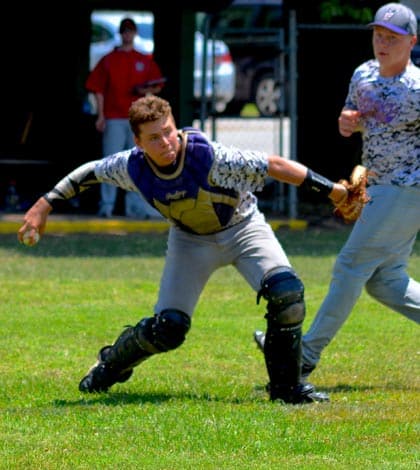 The Valmeyer Post 901 Junior American Legion baseball squad continued the winning theme for the sport in its town of late by capturing the District 22 Tournament title at Borsch Park over the weekend.
Featuring several members of the Valmeyer High School baseball team that finished second in the state this past spring, the junior legion squad won three games as host of the District 22 tourney.
Post 901 improved to 16-10 on the summer and advanced to this weekend's Fifth Division Tournament taking place in Steeleville. Valmeyer has won six straight ballgames.
On Friday, Valmeyer edged Belleville, 3-1. Logan Seidler pitched a complete game, allowing just one earned run on five hits with three strikeouts and three walks. He also went 2-for-3 at the plate with an RBI.
Jacob Rowald, Riley McCarthy and Philip Reinhardt each collected singles, and Gibson Sippel added an RBI on a fielder's choice.
In the first inning with two outs, McCarthy walked, Reinhardt singled and Seidler singled to score McCarthy. Two throwing errors allowed Reinhardt to score. In the fourth inning, Seidler singled, stole second and advanced to third on a wild pitch. He scored on Sippel's ground ball out.
On Saturday, Valmeyer took down league rival Alton, 2-1, in what was a well-pitched game by both sides. Alton finished one game ahead of Valmeyer in league play this summer at 7-1.
Sippel pitched five strong innings for the win, allowing an unearned run on three hits with three strikeouts and a walk.
Reinhardt, who plays shortstop with the junior legion squad after having played much of the summer at the senior legion level, came in to pitch the final two innings for the save. He allowed just a bunt single and struck out four.
Rowald went 3-for-4 with an RBI and run scored. Reinhardt went 2-for-4 with an RBI, with Ryan Brinkman and McCarthy each adding hits.
Valmeyer scored a run in the first on hits by Rowald, McCarthy and Reinhardt. In the third, Brinkman singled, stole second and scored on a hit from Rowald.
On Sunday, Valmeyer pleased the home crowd at Borsch Park by topping Highland, 8-2, for the tourney title.
Brinkman pitched a complete game, allowing two earned runs on eight hits with two strikeouts and two walks.
Valmeyer plated seven runs in the first inning on just one hit, taking advantage of seven walks and two hit batsmen.
Sam Fitzwilliam and Jacob Niebruegge were credited with RBIs after being hit by pitches. Brinkman, Rowald and McCarthy had RBI walks.
Valmeyer scored its final run in the third inning on hits by Rowald, McCarthy and Seidler to load the bases. Rowald scored on Sippel's sacrifice fly.
McCarthy went 2-for-2 with an RBI and run scored. Henry Weber also went 2-for-4.
Brinkman, Rowald, Reinhart, Seidler and Sippel all collected one hit each in the victory.
Brinkman (outfield, pitcher), Seidler (third base, pitcher), McCarthy (catcher, first base), Sippel (first base, pitcher) and Rowald (shortstop, pitcher) were all selected as all-stars for Valmeyer this summer for their success on the diamond.