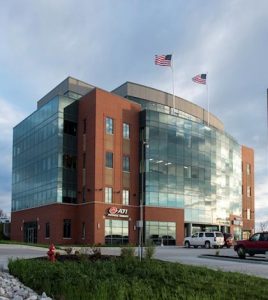 Scott Credit Union announced this week that it plans to open a new branch at the 11 South building in Columbia later this year. The newest SCU location will be the credit union's 17th branch.
"We recently announced that we will open our first St. Louis branch later this summer, which will be followed by the opening of the branch in Columbia, Illinois," Scott Credit Union President & CEO Frank Padak said.
SCU representatives are working on plans and expect to open this December. SCU will be leasing about 2,800 square feet on the main floor of 11 South. This location will feature drive-up lanes and a 24-hour drive-up ATM.
The new SCU branch will feature non-traditional teller pods where staff will guide members through their transactions, Padak noted.
"When members come in, we will greet them and be available to meet whatever financial need they have," he said.
SCU also has a branch location at 1019 N. Illinois Route 3 in Waterloo.
Earlier this year, State Bank of Waterloo began construction on a 4,300-square-foot Columbia branch location at 1525 North Main Street, behind Midwest Petroleum at the site formerly occupied by Hardee's. State Bank said it hopes to open its Columbia location by late November.