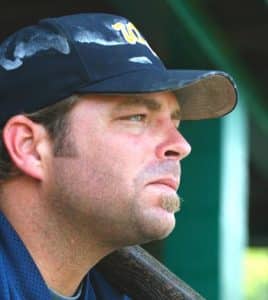 Although he's gone, the memories still remain.
Family, friends and coaches looked back fondly on the life of former major league pitcher John Philip Rheinecker, a Hecker native and Gibault Catholic High School graduate who died last Tuesday night at the age of 38.
Family and friends said he took his own life.
"Fly high little brother, 'til we meet again," John's sister, Lyn Ahne, posted on Facebook. "You watch your baby girls from above and we will be sure to love and pray for them here."
Rheinecker was the top pitcher and hitter on the 1997 Gibault baseball squad that advanced to the Class A state tournament under head coach Steve King. The Hawks finished with a 25-10 record that season.
"He could get vocal, but mostly led by example with his play on the field," King reflected during a phone interview last week with the Republic-Times.
When Rheinecker wasn't pitching, he'd play centerfield.
"John was very competitive, hard working," King said. "He was a hard-nosed kid and a good, solid ballplayer.
"He played baseball like it was supposed to be played."
King said he kept in touch with Rheinecker during his journey through the pros.
"The day he got drafted, he called me," King said. "I thought that was so cool."
King and his son even watched Rheinecker pitch in person once for the Texas Rangers against the Chicago White Sox. Rheinecker, who finished with a career major league mark of 8-9 with a 5.65 ERA in 2006 and 2007 for the Rangers, pitched eight innings that day, King said.
"He threw really well that game," King recalled. "It was a great experience and I was proud of him."
Upon learning of his death, King said there was an instant reaction of disbelief.
"It's just sad," King said. "We'll miss him."
From Gibault, Rheinecker played at Southwestern Illinois College, where he was the top pitcher and clean-up hitter under head coach Neil Fiala.
"He did the things we always want people to do," Fiala said of Rheinecker in a Belleville News-Democrat article.
Rheinecker was initially selected in the 30th round of the 1998 major league draft by the Seattle Mariners, but he opted to stay at SWIC before transferring to Southwest Missouri State University (now Missouri State).
Following continued college success, the Oakland A's selected Rheinecker in the first round (37th overall) of the 2001 draft. He became the first baseball player in Southwest Missouri State history to be taken in the first round.
Rheinecker spent four years in the A's farm system before the team traded him to the Rangers on March 31, 2006, along with infielder Freddie Bynum for pitcher Juan Dominguez.
He made his big league debut on April 22, 2006, against Tampa Bay. Rheinecker picked up his first major league win on his 27th birthday, May 29, 2006, pitching eight shutout innings against Seattle.
Injuries derailed his pro career, however. Rheinecker was diagnosed with thoracic outlet syndrome and underwent surgery to remove a rib to alleviate the symptoms. Arthroscopic shoulder surgery was performed in May 2008 to clean up the shoulder joint.
This caused Rheinecker to miss the entire 2008 season, save for two minor league rehab starts.
"The only thing I'd try to do differently in the big leagues is not get hurt," Rheinecker told the Republic-Times during a 2012 interview. "It's all about staying healthy.
"The whole experience was great. And I got to play Major League Baseball… every kids' dream."
One noteworthy stat about Rheinecker: he was hit by a pitch in his only major league at bat, making his career on base percentage a perfect 1.000.
Rheinecker played a few summers in the Mon-Clair League following his pro career, the last being in 2012 with the Waterloo Millers. His pitching days behind him, Rheinecker served as clean-up hitter and played the outfield for the Millers that season.
"He was into every game, every pitch," Millers manager Vern Moehrs recalled. "He played well for us that year."
During one stretch late that summer, Moehrs said Rheinecker had a hit in nine straight at bats.
Jim Prather grew up with Rheinecker near Hecker, as their two families resided on adjoining rural properties near Prairie du Long Creek.
"We were pretty much family," said Prather. "I was there the day his dad died. I think that always left an impact on him."
Prather said John's father, Philip Rheinecker, died in a tractor accident in the mid-1980s when they were very young.
"John was a great guy, would give you the shirt off his back," said Prather, 39, who graduated from Waterloo High School in 1996. "He just had a presence about him, always had that grin on his face."
Prather said he was devastated by the news of his friend's passing.
"A big chunk of my childhood has a void right now," he said. "This has changed my outlook on life quite a bit. I immediately felt for his young girls (daughters Jadeyn and Jolee)."
Prather remembers he and his childhood friend always playing sports, mainly baseball.
"Baseball was a big part of our lives," Prather said. "It's just what we did, pretty much every day. We were both competitive. He hated to lose."
With Rheinecker at Gibault and Prather at WHS, the two took part in the cross-town sports rivalries through the mid-1990s, pushing each other along the way.
Prather said the two remained in touch during Rheinecker's pro career, but really re-connected once his playing days were over.
Rheinecker was offering pitching advice at Grand Slam Sports Academy just a couple of years ago, Prather recalled, and invited his son there for a lesson.
Following the lesson, Rheinecker and Prather played catch just like old times.
"I'll never forget that," Prather said with emotion. "Something about that little white ball just brings people together."
Prather, who teaches and coaches in the Waterloo school district, spoke during Rheinecker's funeral over the weekend, but said afterward he forgot to offer this important bit of advice to youngsters:
"Put down your phones and turn off the video games," Prather said. "Just go outside and play catch."