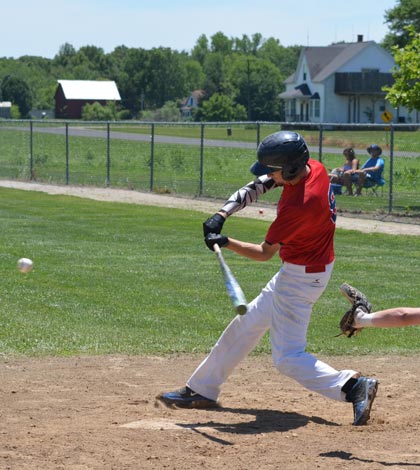 The Waterloo Millers clinched their 42nd Monroe Division title with a doubleheader sweep of the Columbia Saints on Sunday.
"It's always important for me to win a division title," said longtime Millers manager Vern Moehrs, who has been at the helm for all of them. "It's tough. You play a lot of games."
The Millers improved to 20-4 in league play, which is the best record in the Mon-Clair League just ahead of St. Clair Division-leading Fairview Heights (19-5).
"It's taken the whole team to be successful this summer. Different guys step up on certain days," Moehrs said.
In game one on Sunday, the Millers fell behind 4-1 early against the Saints and trailed 4-2 in the seventh inning. A four-run outburst led to a 6-4 victory.
Mike Hardin led off with a single, which was followed by a Craig Ohlau double. Lucas Wetzler came through with a clutch two-RBI single, and then Alex Wittenauer singled and stole second base.
Trevor Davis drove in the go-ahead runs with a two-RBI single. He went 2-for-3 in the game with three RBIs and a stolen base.
Noah Thaggard pitched two strong innings in relief of starter Ben Klostermeier, striking out four.
In game two, the Millers blew open a close game with five late runs to win 9-5.
Mitchell Krebs went 4-for-5 with a double, two RBIs and a stolen base. Wetzler added two hits and three RBIs, and both Hardin and Ohlau also added two hits apiece.
Jeremy Rettig threw four solid innings for the mound victory, and Thaggard was again strong in relief with two solid innings.
Ohlau is hitting .405 with 13 runs for the Millers, followed by shortstop Brad Dillenberger at .400 with 19 runs, Krebs at .397 with 19 runs, and Wetzler at .382 with 21 RBIs.
Andy Galle leads the pitching staff at 6-1 with a 2.18 ERA.
The Millers close out the regular season with two games Saturday afternoon at Millstadt.
The Valmeyer Lakers swept a Sunday doubleheader over Belleville, moving their league record to 12-12 entering the final weekend.
Mitch Meyer went 3-for-3 with three runs scored and Matt Reinholz went 3-for-4 with three RBIs and two runs scored in a 14-2 game one victory. Justin Lilly added two hits and four RBIs and Cam Touchette went 2-for-3 with a triple and two runs.
Jacob Hill threw a five-inning complete game.
In game two, the Lakers edged the Rockies, 6-4. Touchette went 3-for-4 with a triple, two RBIs, two runs and two stolen bases to lead Valmeyer. Meyer and Mark Nappier added two hits apiece.
Ian Miller threw five solid innings for the win, with three relievers combining to close out the game.
Meyer leads the team in hitting at .444 with 20 RBIs and 24 runs, followed by Reinholz at .431 with 20 RBIs. Wes Degener is hitting .385 with 14 runs. John Wuelling is hitting .362 with 17 runs and 14 stolen bases. Touchette is hitting .361 with 23 runs and 16 stolen bases.
Austin Beccue leads the Lakers pitching staff at 3-1 with a 1.59 ERA.
Valmeyer closes out the regular season with a Saturday doubleheader at home against Columbia.
Millstadt (12-10) has to play two games Sunday against Charleston following Saturday's doubleheader with Waterloo.
The Green Machine won three of four games this past weekend, splitting a Saturday doubleheader with Belleville before taking both games Sunday against Edwardsville.
Rob Beatty went 3-for-4 with a home run, two RBIs and three runs in a 12-10 win over the Rockies following a 6-0 loss. Jarod Mueth went 4-for-5 in the win and Cal Kossina added three hits.
On Sunday, Jacob Wilson collected five hits in the doubleheader sweep. Alex Quirin collected two hits in each game, and Luke Glaeser posted a 2-for-3 effort with a double, triple and two RBIs in the 10-4 game two victory.
Cal Kossina went the distance on the mound in the 6-1 game one win.
Beatty leads Millstadt with a .435 average, 27 RBIs and 23 runs. Shortstop Tony Kossina is hitting .405 with 21 runs.