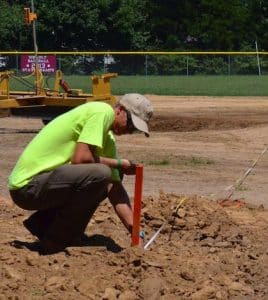 Many legends have tapped the plate or toed the rubber at Ss. Peter & Paul Field in Waterloo over the past 60 years.
So, it's only fitting that a legendary former Major League Baseball manager is leading the charge in an effort to spruce up the aging diamond that is home to the Waterloo Millers, Gibault Hawks, Ss. Peter & Paul Catholic School Falcons and youth baseball teams.
A secondary campaign is also underway for further improvements.
Whitey Herzog, a New Athens native who earned his place in MLB's Hall of Fame following 10 years at the helm of the St. Louis Cardinals, is contributing funds toward a renovation project currently underway at SPPS Field.
This includes the leveling and resodding of the grass infield as well as some work on the outfield surface.
Thanks to the Whitey Herzog Youth Foundation, baseball fields in Columbia, New Athens, Belleville and other area communities have undergone renovations in recent years.
SPPCS Booster Club President Bryan Metzger said Herzog visited the field, which was founded in 1956 and owned by the Catholic parish and school, last year.
"We didn't need to do much talking, because right away, he said 'Wow, this field needs help,'" Metzger said.
For example, Metzger said, right field is approximately three feet higher than home plate.
Herzog has arranged for MJM Services of Belleville, owned by Mike Munie and known for installing top-of-the-line sports fields and golf courses, to perform the field upgrades. Metzger said the Herzog Foundation will pour an estimated $40,000 into the initial phase of upgrades prior to the 2017 baseball season with a possible future donation of $30,000 for other features as determined.
Piggybacking off Herzog's generosity is a new Legends of the Field campaign organized by Metzger, Kevin McFarland and others involved in local baseball programs.
This campaign aims to collect funds from the community so that new fencing and batting cages can be added to the on-field improvements as well as a new scoreboard and improved dugouts, fan seating and restrooms.
Sponsorship opportunities through this Legends of the Field campaign include the sale of personalized clay bricks and outfield fence sponsor signage.
"So many great players have competed on this very field over the years," McFarland told the Republic-Times. "We're trying to fix it up and make it look nice for the community."
The four-by-eight-foot signs, which will be placed along the outfield fence and other areas around the field, can be purchased for $400 with a $200 yearly renewal fee option.
The clay bricks will be installed in the general seating area behind home plate and come in three sizes ranging in price from $100 to $225.
The Legends of the Field Committee intends to host an official kickoff party for its capital campaign in just a few weeks.
"We really think this field will look pretty impressive once it is all said and done," McFarland said.
For more information on the local fundraising campaign to improve SPPS Field, call McFarland at 618-830-3613 or email 46kmac@gmail.com.