Local voters will head to Monroe County polls from 6 a.m. to 7 p.m. Tuesday to cast their votes in contested races for Monroe County Clerk, U.S. Representative of the 12th Illinois Congressional District and Illinois State Representative of the 116th District.
Jason R. Jones Sr.
Democrat Jason R. Jones Sr. of Waterloo is running against Jonathan McLean for the position of Monroe County Clerk, which is being vacated through the retirement of Republican Dennis Knobloch.
Jones, 39, is a Monroe County native. He is a 1997 graduate of Waterloo High School and graduated magna cum laude from Northeastern Illinois University with a bachelor's degree in history. He has a teaching license from McKendree University graduate school.
He is a prior retail manager and is a current substitute teacher.
Jones has been active with the Monroe County Democrats since 2015, is a precinct committeeman and was a poll judge in the 2016 and 2018 elections.
"It is vitally important our county government consists of more than a single viewpoint and represents all citizens," Jones said. "I will excel at the statutory requirements of county clerk, but I will also go above and beyond to be a leader of the community with a fresh vision of Monroe County's future."
If elected, Jones would focus on ensuring election integrity, transparency and technology.
"We need new voting machines to make our elections secure and accurate… Every document that passes over that counter should be digitally scanned.  All archived records should be digitized so that when citizens look for pre-1980s documents they are not turned away. At the very least, all jurisdictional maps should be easily accessible on the county's website.
"The county clerk is … the recording secretary of county commissioner meetings and is responsible for posting all public notices regarding county government… I will go beyond a notice tacked to a courthouse bulletin board or blurb on the county website.  I will regularly communicate with the people to keep them informed of the plans and projects of their government."
Jones is a member of Concord Presbyterian Church in Waterloo, Cub Scout Pack 323 and the Monroe County Democrats.
He and his wife, Mandy, have four children: Beatrice, Jason, Jr., Robert and Adellade.  His mother, Marilyn, also lives with them.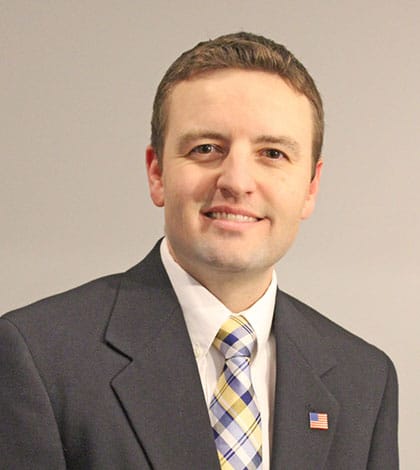 Jonathan McLean
Republican Jonathan McLean of Columbia is running against Democrat Jason R. Jones Sr. for the position of Monroe County Clerk, which is being vacated through the retirement of Republican Dennis Knobloch.
McLean, 36, is a 2005 graduate of Southern Illinois University Edwardsville with a bachelor's degree in political science and a minor in economics. He has owned and operated an insurance business for the past 12 years
"I believe, based on my background and business experience, I am very well suited to manage the Monroe County Clerk's office and I intend to make sure that it continues to be run in a professional manner," McLean said.
As Monroe County Clerk, McLean would like to see technology take a front seat to paper and pen.
 "I would like to make more documents and services available online. I will always be supportive of adopting new technology that will make it easier for our residents to do business with the County Clerk's office," he said.
McLean believes one of the biggest issues in the race is cyber-security.
"As more documents and services continue to move online, safeguarding our computer systems from cyber criminals will become a greater concern for the Monroe County Clerk's office," McLean said. "I will continue to focus on providing the clerk's office with the technology and training to protect against cyber attacks and data breaches."
McLean is a past board member and chairman of a regional non-profit organization called the Southwestern Illinois Resource Conservation & Development Council (2004-2012) and is a current precinct committeeman in Columbia
He and his wife of 12 years, Susan, have two daughters: Madison and Abigail.