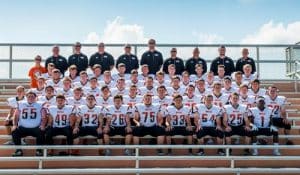 Getting to the playoffs is typically not a problem for the Waterloo High School football program. The Bulldogs have reached the playoffs seven of the past 10 seasons.
Winning in the postseason has been quite a hurdle to overcome, however. Waterloo last won a playoff game in 1994.
Last season, turnovers cost the 'Dogs a number of chances to make the postseason. Despite wins over Mascoutah and Mater Dei to end the regular season, Waterloo finished a disappointing 4-5.
In 16 seasons as head coach of the Bulldogs, Dan Rose has compiled an overall record of 76-77.
"We got into a turnover problem last year, and that really hurt us," Waterloo head coach Dan Rose told the Republic-Times. "When we didn't turn the ball over, you could see that we were capable of great things."
Naturally, ball security has been a focus at practice so far this season.
"Our conditioning and the turnover battle are important in determining how our season is going to go," Rose said.
Starting at quarterback for the Bulldogs in 2016 will be junior Ross Schrader. The 6-foot-3 signal caller ran the junior varsity offense last season and Rose said he's ready to move up to the next level.
"He's really improved his speed," Rose said. "He's doing fine in practice. Ross is a very intelligent young man and has been able to pick up whatever we've thrown at him."
When he isn't handing the pigskin over to senior running back Hayden Bender — who amassed 139 yards rushing and 97 yards receiving last season — Schrader will have two tall targets to throw to in senior wide receivers Austin Patton (6-foot-4) and Kyle Knefelkamp (6-foot-1).
Patton had 278 yards receiving and five touchdowns last season; Knefelkamp had 414 yards receiving with six scores.
Another senior wide receiver with height is 6-foot-5 Dylan Hunt. Senior running back Scott Nanney is also expected to see some touches.
Among those protecting Schrader on the offensive line include seniors Dakota Gagliardi (6-foot-3, 200 pounds), James Neary (6-foot-3, 260 pounds), Logan Kaufmann (5-foot-11, 220 pounds) and Austin Crimm (6-foot, 200 pounds).
Kaufmann is also expected to make an impact on defense at linebacker.
Bender will join Kaufmann in the linebacking corps.
Providing the defensive pressure for the 'Dogs once again this season is Kory Johnson. The three-year starter recorded five quarterback sacks last season at defensive end.Johnson will also play at tight end on the offensive side.
Patton and Knefelkamp will also play at defensive back, joining fellow senior Ryan Wiggers.
As in past years, Waterloo will be aiming for a Mississippi Valley Conference title, another playoff berth, and a shot to finally shake the 22-year-old playoff monkey off its back.
Rose expects Triad and Highland to be tough MVC opponents this season.
Civic Memorial also looks to be a playoff-caliber squad.
"Obviously, we want to compete in the MVC and get into the playoffs," Rose said. "We're looking forward to getting to it."
The Bulldogs open on the road this Friday at Herrin before traveling north on Route 3 to face rival Columbia on Sept. 2.