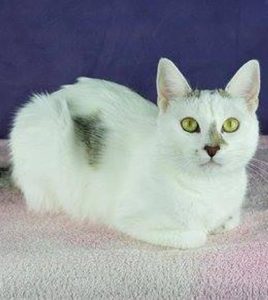 Never will you ever see a more beautiful cat than Tabitha. Just look at the unique markings on her coat.
Tabitha gave birth in a foster home to three healthy babies. She did a fantastic job raising them but now it's her time to shine.
She loves attention and is always ready to talk to you. She has never met a person that she didn't love. She does well with other cats but IS not certain about dogs. Come see Tabitha and find out just how amazing she is!

---
To learn about the process of adding a new pet to your family, click here.
To fill out an adoption application on the Helping Strays website, click here.
For more information about how you can help out at Helping Strays, click here.
Helping Strays shelter is located at 4221 Hanover Road, off the west side of Route 3, between Waterloo and Columbia. Their hours are Wednesday, Thursday and Friday, from 11 a.m. to 7 p.m.; Saturday from 11 a.m. to 6 p.m.; and Sunday, form noon to 4 p.m. The shelter is closed Monday and Tuesday. The shelter can be reached at 618-939-7389.