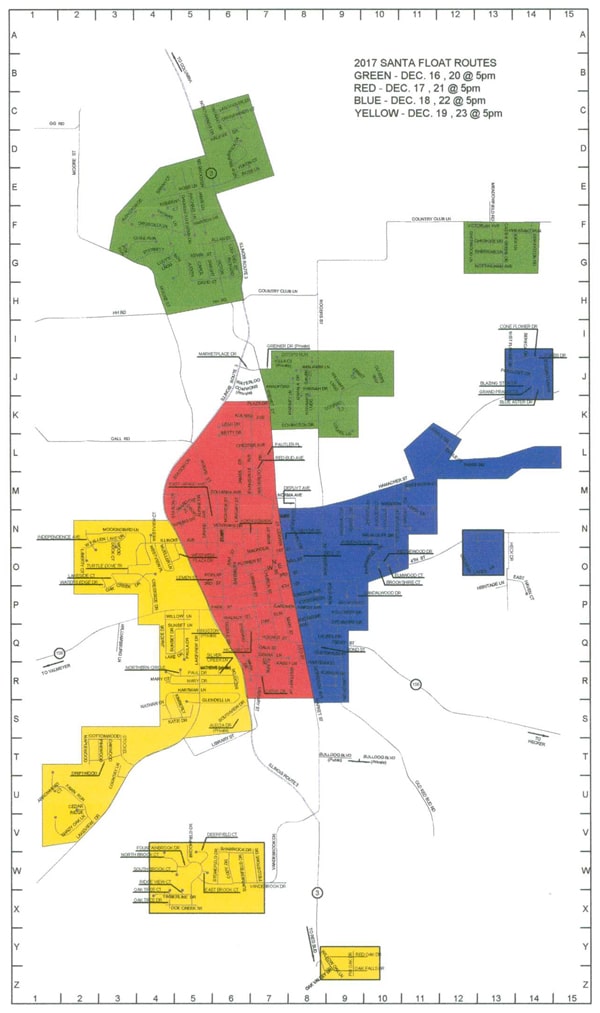 The Santa Float is again getting ready to  make its way through the streets of Waterloo, bringing gifts and glad Christmas tidings to all. However, there are a few changes to the tradition, which stretches back nearly 15 years.
Harry Wolf, a longtime member of the Waterloo German Band and founder of the Santa Float, has retired, and the float is being taken over by several Waterloo organizations. It will have a new look, but will spread the same holiday cheer.
The city of Waterloo, Waterloo Chamber of Commerce and the Sister Cities of Porta Loo, with the help of many continued donations from individuals, businesses and organizations, have come together to ensure the beloved tradition continues.
Check out the schedule below to find out when and where Santa and his elves will be, or view the color-coded map. The float heads out at 5 p.m. each evening and will be led by a city of Waterloo vehicle with red and green flashing lights and a loudspeaker announcing the approach of Santa, who will have a treat for all who come out to see him, even the pooches.
Dec. 16 (Saturday) and Dec. 20 (Wednesday)
Northwinds, Rose Meadows, Sterritt's Run, Dannehold Farms, Lou-Del, Villas at Bradford, Marney's Clearing, Bradford Estates, Remlok, Country Club Hills, Remington Ridge, Stoney Creek
Dec. 17 (Sunday) and Dec. 21 (Thursday)
Area between Route 3 (east) and Market Street (west): Paulter Heights, Gibault area, Garden Place, VFW area, downtown, Leland Terrace, Springview Acres
Dec. 18 (Monday) and Dec. 22 (Friday)
Area east of Market Street and south of Hamacher: Sandalwood, Greenfield Manor, Hardy Acres, Morrison Avenue, Bellefontaine Heights, East Ridge, Quail Ridge, the Ridge, Oak Hill, Legacy Place, Parkwood, Country Lakes
Dec. 19 (Tuesday) and Dec. 23 (Saturday)
Lakeview Estates, Westview Acres, Silvercreek Crossing, West Lake Estates, Sunset Acres, The Meadows, Southview Villas, Stonefield, Vandebrook, Oak Valley, Creekside Estates, and Robrika's Run
For a full-sized, printable map, click here.