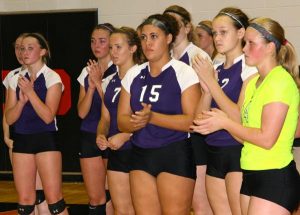 The Valmeyer High School volleyball team ended its season with a two-set loss to Norris City in the Class 1A Crab Orchard Sectional final on Thursday night.
The Pirates, who were led by Blair Brady and Jessie Seidel with six kills each, ended their season with a record of 21-15.
In the sectional semifinal last Tuesday night, Valmeyer defeated Cobden in two thrilling sets, 26-24, 27-25. Jordyn Killy led the way with nine kills. Sam Seidel added eight kills.
"(Last) Tuesday night, we won in two close games, but we didn't play our best match," Valmeyer head coach Jenny Kohnz told the Republic-Times. "We had played many close matches throughout the regular season and play a very tough schedule for a 1A school.  Our girls didn't falter when the score was close."
Kohnz said that in both games of the sectional semifinal, Cobden had game point first but the Pirates fought back.
Guin Kohnz ran the offense with 12 assists and Savannah Williams and libero Cierra Goldschmidt combined for 23 digs in the back row.
In the sectional final, Norris City featured two tall middle hitters.
"We knew we had our work cut out for us," Kohnz said. "We run a quick middle offense, and we thought we would be able to cut around the block in the middle.  That ended up not being the case, so I told my setters to run the 'I' outside and backside. "
Kohnz said Sam Seidel, Jessie Seidel and Williams did a great job of hitting and tooling the block on the sides.
"It just wasn't enough," she  said. "Their two hitters could hit over our block. My girls played a hard-fought game and I couldn't have asked for a better effort."
Kohnz said she considers herself lucky to have coached the three departing seniors (Killy, Brady and Williams) from junior high all the way through high school.
"This makes it especially hard to say goodbye each year," Kohnz said. "This senior class won second place in state as eighth graders, two conference titles, two regional titles and one sectional title. They have left their mark on Valmeyer volleyball and their shoes will be hard to fill next year."
Killy led the team in kills with 241. Brady led the team in blocks with 65. Williams finished second on the team in digs with 336.
Still, there's a bright future for the Pirates. Kohnz will be returning juniors Sam Seidel and Goldschmidt, her daughter Guin, and two freshman that played significant varsity time this season in Jessie Seidel and Megan Killy.
"I look to sophomores Sara Andres, Kendra Goldschmidt and Kenzi Rowe-Brown to fill the vacancies left by my three seniors," the coach added.