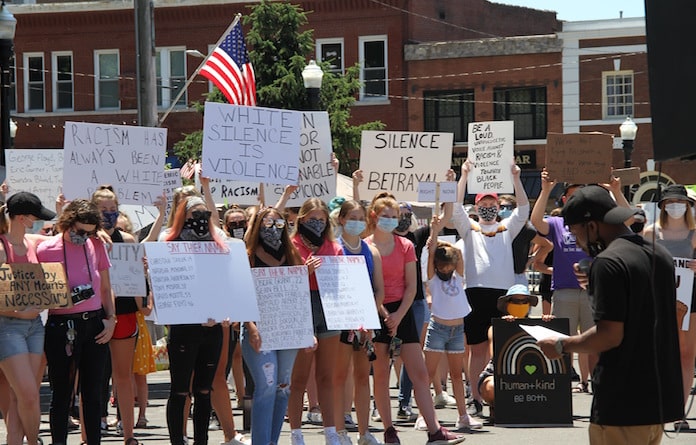 A week after a similar gathering in Columbia, Waterloo is the latest in a growing list of cities that have seen a protest against racism and police brutality in the wake of George Floyd's death at the hands of a Minnesota police officer.
A few hundred people attended the Waterloo protest, called Waterloo Speaks, which was organized by Rusty Green, Connor Stierwalt, Amanda Chase and Jonathan Sandrowski.
"We think it went really well," Stierwalt said. "It ended up being bigger than we were expecting."
The protest took place in front of the Monroe County Courthouse and was intended to be against "white silence and improper police conduct, serve as a "wake-up call" and suggest ways small towns like Waterloo could help black Americans, according to a press release from organizers.
"In Waterloo, it's really easy for people to not see racism or just ignore it because you don't see it in your community," Stierwalt told the Republic-Times. "There's such a small minority community here… It's pretty easy to see the media and assume the protests are all violent or rioting demonstrations. We really wanted people to see that's not what this movement's about. It's about understanding and equality."
Water and sunscreen had been donated for protesters, the overwhelming majority of whom wore face coverings, with excess supplies being donated to the St. Louis Food Bank.
The event began with three planned speakers, including one black man and a white woman with racially mixed children.
Then, anyone who wanted was allowed to speak to the crowd.
Several people took advantage of that, with the protest lasting about 2.5 hours.
The messages shared by people from Waterloo, Columbia and Red Bud who spoke at the event varied in their calls to action and intimacy.
One of the first speakers was Jason Jones, a substitute teacher in the area who recently ran for Monroe County Clerk as a Democrat.
"An important part of patriotism is criticism," Jones said, garnering applause from the crowd. "And that goes not just for the nation, but the local as well, right here. We need to hold people accountable right here. I love my country, so I criticize it to improve it, and I love my county so I criticize it to improve it."
A Waterloo resident named Megan shared similarly critical thoughts, noting there were no black students in her class at Waterloo High School and saying Waterloo used to be a "sundown town."
She then called for change on a national scale.
"A lot of systemic change has to happen from the bottom up," she said. "The police need to be restructured. My mom said 'well, defund the police, that's a scary word.' I said 'yeah, it's scary, but things like that need to happen so we can see real change in this country.'"
Megan also said racism is still present in Monroe County, which Gibault Catholic High School graduate Zach Thompson strongly agreed with.
"For people who are different than white, straight and cisgender, this town is a living nightmare," Thompson said.
Thompson also singled out Waterloo Mayor Tom Smith, the Waterloo Police Department, Monroe County Sheriff Neal Rohlfing and the Monroe County Sheriff's Department for not being present at the protest, saying "your silence is deafening."
Several people spoke about silence on an individual level, arguing that people can start to make a difference by speaking up.
"I think a lot of what has to happen is on our shoulders, individually," said former Waterloo teacher Susan Barker. "When we meet injustice or racism, we have an opportunity to correct it."
A recent Waterloo High School graduate who identified herself as Jordan said that is particularly important when the most common voices are "close-minded."
"Close-minded people, typically, are the ones with their mouths the most open, so we need to change that narrative," she urged. "We need to be the ones who are speaking. We need to be the ones who are fighting. Because if we stop, the racism, the injustice will never end."
An unidentified man said that is part of people's frustration, as a history of racism and oppression can be traced back "decades or centuries."
"For far too long, we have taken a backseat," he said. "We have let problems so blatantly obvious run their course without so much as a second thought, and look at what it's cost us. We have seen life after life taken away from a corrupt system near immune to accountability. We have seen family after family crippled in economic condition, discriminated against in both opportunity and access.
"And, of course, we have all seen the names: Eric Garner, Michael Brown, Trayvon Martin, Philando Castile, Tamir Rice, Ahmaud Arbery, Breonna Taylor and, now, George Floyd. How many more names are we willing to mourn before change happens immediately?"
In terms of change, speakers offered suggestions including voting with your morals, talking to people of color about their experiences, reading minority perspectives, listening to those saying there is a problem, signing petitions, donating to social justice causes and writing letters to elected officials.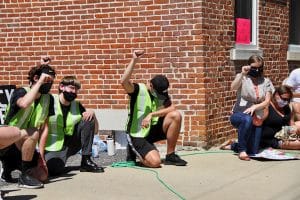 There was limited pushback at the event, with a few people attempting to disrupt the event by blaring vehicle horns, revving an engine or yelling expletives.
On social media, many people commented saying they were against the protest, but there was no counter-protest on Saturday.
Also after the event, Waterloo and Monroe County government entities released statements.
"As the elected governing body for the City of Waterloo, we reaffirm the dignity, equality and worth of every person regardless of color, ethnicity or ancestral heritage," Smith said at the Waterloo City Council meeting on Monday. "We stand together with our community and nation, neighbors and law enforcement officers to work together peacefully and productively to further our shared mission of equality and justice for all."
Monroe County Board Chairman Bob Elmore spoke on behalf of the county board on Monday.
"We stand with political leaders around the world as we strive to promote peace and safety for all citizens – no matter their race, creed, color or ethnic background," he said.
According to one of the final speakers at the event, Monroe County has work to do to make that reality.
Chase, a local attorney, told the story of how a black friend of her's who marched with Martin Luther King Jr. at age 14 refused to come to Waterloo because she feared residents or police officers would behave in a racist way toward her.
"How brave do you have to be to travel across the country to march in D.C. with Dr. King, but she's scared today because of Waterloo," Chase said. "She was a brave woman at 14, but generations have taught her that she is not safe here, and that has to change."