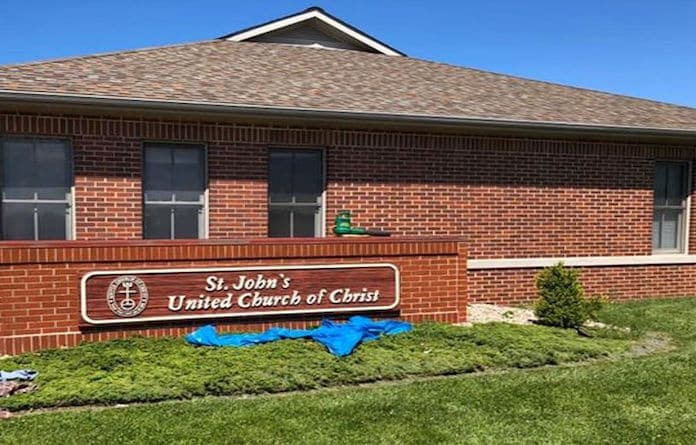 A 46-year-old man formerly of Freeburg will serve probation for the theft of funds after promising work at a local church but failing to deliver.
Daniel M. Hatter of Davenport, Fla., was sentenced Friday in Monroe County Circuit Court to 48 months of probation and ordered to pay restitution on felony charges concerning funds stolen from St. John's United Church of Christ in Valmeyer during the summer of 2019.
The first charge for accepting payment of $10,500 from the church was a Class 1 felony due to the theft involving a place of worship and an amount of money greater than $10,000.
The second charge of Class 3 felony theft was for accepting an additional payment of $3,700.
Hatter, who moved to Florida following the theft, was sentenced to serve his probation in Illinois while also paying restitution to the church and any associated court costs.
At the sentencing, former St. John UCC Consistory President Gale McCarthy provided a victim impact statement before Judge Dominic Kujawa.
McCarthy recounted her interactions with Hatter, saying the church began working with him to complete a sound system upgrade for the church during her first term from January to December 2019.
McCarthy paid Hatter the first down payment of $10,500 for ordering equipment in late April of that year.
Hatter then reached out in early May to let McCarthy know that, after discussing with his vendors, upgrades totaling roughly $20,000 were available, with further savings also possible.
That increase in price, McCarthy said, was "way above" the consistory's budget.
After a period of negotiating among Hatter, McCarthy and the rest of the consistory, the church declined the upgrades and stuck with the original proposal.
At one point in June, Hatter's father picked up a check on his son's behalf from McCarthy for $3,700, an amount McCarthy said Hatter had requested to "get new equipment and keep the project moving."
McCarthy said she then tried to reach Hatter repeatedly each day from July 9 to Oct. 28, receiving no texts or calls in response.
She then discovered Hatter had moved to Florida when she attempted to meet him in Freeburg on Oct. 28.
McCarthy noted in her statement that funds for the church sound system came from the church's general fund.
She added that Hatter did not respond to any attempts to contact him after his father picked up the last check and Hatter, to her, displayed an eagerness to get more money from the church.
"The sense of urgency and the timeline shows Mr. Hatter's eagerness to receive more money from our church," McCarthy said. "He was requesting it quickly and continued to reach out often to discuss his proposed upgrade. Even after our board rejected the proposal, he tried to up-sell us again. And then he required more of a down payment without any progress on the project."
McCarthy closed her statement by describing the personal pain the theft had caused her, adding to Hatter that the congregation had been praying for him but still hoped to see him face "significant consequences" for his actions.
Following McCarthy's statement, Monroe County State's Attorney Lucas Liefer gave his sentencing recommendation, noting that a Class 1 felony is punishable by 4-15 years in the Illinois Department of Corrections.
Among Liefer's main points were the theft taking place in a place of worship, Hatter living in a seemingly affluent neighborhood when he first moved his family to Florida and his belief that a probational charge would diminish the seriousness of Hatter's charges.
"I want the message to be sent throughout Monroe County, and not just Monroe County, that you cannot do this kind of thing," Liefer said. "There are real ramifications for your actions in this type of case."
Hatter's attorney A. Mick Henderson then offered his recommendation, noting Hatter's lack of offenses since he was out on bond, the lack of serious harm in the case and Hatter's ongoing attempts to better himself as a person.
Hatter, having originally pled not guilty before changing his plea last year, was allowed to offer a statement allocution.
He expressed his apologies to McCarthy and the church, explaining the series of poor business decisions that led to the theft stemmed from the deaths of his business partner and technician and his own lack of familiarity with the business operations, having mainly been focused on installations previously.
Hatter said he found himself in considerable debt with workers he was unable to train and clients stepping away due to poor workmanship.
He further explained that the move to Florida was necessary to join his family who had moved there before, primarily to find better educational accommodations for his youngest daughter, who has autism.
The lack of communication McCarthy described was, according to Hatter, due to him tasking an attorney with settling his business dealings with a number of customers. The attorney had seemingly failed to get in touch with St. John UCC.
Hatter emphasized remorse for his actions and also noted a desire to settle the matter with the church, going so far as to return to Monroe County to willingly turn himself in after receiving a call from Valmeyer Police Chief Marty Seitz.
"Immediately, I wanted to come back to Illinois and try to start taking care of these issues," Hatter said. "I've taken ownership of my character defects, and I have worked very, very hard to make sure that moving forward, I will never ever find myself in a situation like this again."
Following a short recess, Judge Kujawa returned to deliver his verdict.
Kujawa expressed his consideration of both the severity and impact of Hatter's charges and the stressful business dealings Hatter had described, adding that the circumstances Hatter found himself in didn't excuse what he did.
"After hearing Mr. Hatter's statement allocution, the note I wrote is something I said to my 11-year-old about two weeks ago because he was complaining about how tough life is," Kujawa said. "So what I wrote is, 'Woe is me.'"
Following the sentencing, McCarthy expressed mixed feelings about Hatter's probation.
"I'm a little disappointed in the sentence, but at least he's coming back to Illinois," McCarthy said.
Liefer similarly expressed his feelings about the sentence of probation, also noting Seitz's efforts in the case.
"I would like to commend the Valmeyer Police Department, specifically Marty Seitz, for his work on this case," Liefer said. "While I believe Mr. Hatter should have spent some time in the Illinois Department of Corrections, I am pleased to have obtained convictions on both counts charged and that St. John's UCC will receive restitution to cover the amount taken."
Hatter currently faces another charge in St. Clair County for theft from St. Paul's United Church of Christ in Lebanon.
That charge is also a Class 1 felony due to the amount exceeding $100,000.