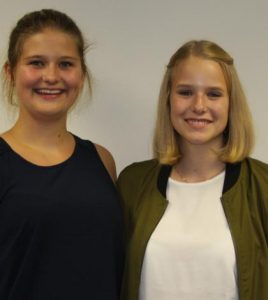 Even though Liska Horstmann, 17, only spent a month in Waterloo, she experienced more of the area than some will in a year's time.
Horstmann is one of two students who traveled from Porta Westfalica, Germany, as part of an annual Sister Cities summer exchange program. The other student is 17-year-old Lara Bleidorn, who also crammed a lot into one trip.
"It's difficult because everything was fun," Bleidorn said of choosing a favorite part of the trip. "It was just all different."
While in Waterloo, Horstmann took a trip to the Gateway Arch, Citygarden, Six Flags, the St. Louis Zoo and many other St. Louis-area attractions.
She also visited the Monroe County Fair, which took place July 24-31 at the county fairgrounds, where she saw her first Figure 8 race and demolition derby.
"It was so cool," she said of the Figure 8 race.
Bleidorn went to the fair every day of the week and also enjoyed that experience.
"It's interesting — the mix of cars and tractors and everything," she said.
Besides that, she went to the Missouri Botanical Garden, Butterfly House and Gateway Arch in St. Louis. Bleidorn also used her trip as a good opportunity to practice her English and make new friends…>>>
Read the rest of this story in the August 17 issue of the Republic-Times. If you don't already receive the paper, you can subscribe by calling 939-3814 or clicking here, or pick up a copy at any of these locations.