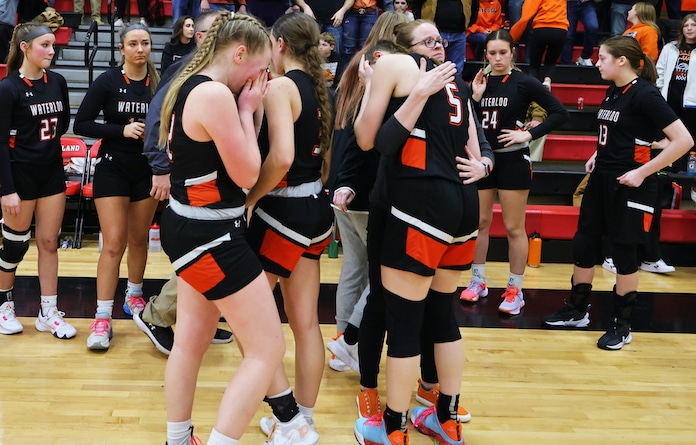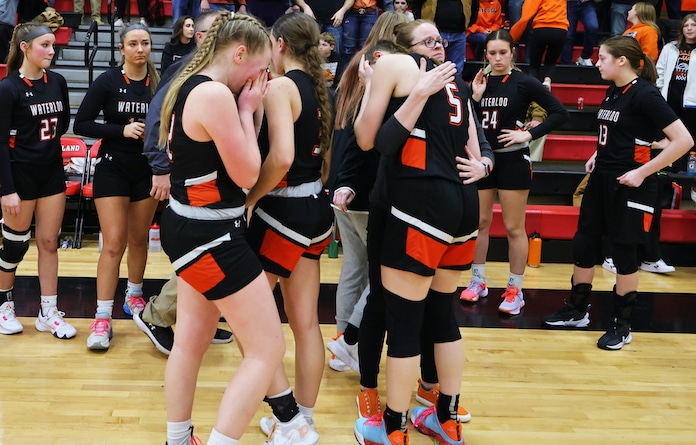 The Waterloo High School girls basketball squad ended its season Friday night with a 52-49 defeat at Highland in a Class 3A regional final.
Waterloo (19-11) went up 44-41 with a basket by Liv Colson at the third quarter buzzer and led by four points with 2:30 left in regulation.
But Highland made key baskets down the stretch to take the title.
It was the third time Highland snuck past Waterloo this season, having won 54-52 on Jan. 7 and 60-54 on Nov. 28.
"It was a really tough loss and it will sting for a long time," Waterloo head coach Jake Schneider said. "We battled hard all game and built a lead we couldn't quite hold on to. Highland is a good team and we made too many mistakes for them to capitalize on. We said coming in that we just wanted to give our best effort so we wouldn't have regrets. We didn't make all the plays, but I can say with confidence we gave it our best effort."
Waterloo had won four straight games entering the regional final, and the goal all season had been to win the program's first regional championship after falling just short with an overtime loss in the regional final last year.
"This season had a lot of highs and lows," Schneider assessed. "I believe we were playing our best basketball down the stretch until the last couple minutes on Friday night. It didn't end how we hoped, but it doesn't take away all this team has accomplished. We've played in a lot of big games with incredible atmospheres. It has been a lot of fun."
Schneider expressed great pride in his team, most notably the seniors.
"They obviously leave us with huge shoes to fill but we will continue to chase success," Schneider said. "I believe in the players we have returning. We may have to reinvent ourselves, but I know we can still be competitive. The tough losses bring valuable experience and motivation to work harder."
Friday's game was the last for talented WHS seniors Norah Gum and Sam Lindhorst – two of the top players in program history.
Gum, who will play next season at Missouri S&T, finished her WHS hoops career with 1,565 points (second all-time), 859 rebounds (second all-time), 132 assists (seventh all-time) and 161 steals (second all-time).
Lindhorst, who will play next season at Lincoln Land Community College, finished her WHS hoops career with 1,125 points (fourth all-time), 437 rebounds (sixth all-time), 370 assists (first all-time) and 285 steals (first all-time).
"Sam and Norah are two of the best ever," Schneider said. "The numbers speak for themselves. I'm really going to miss watching them play every day. Both players expressed themselves through basketball and it was a really special run to have a front row seat to. Their games complimented each other very well and produced the most dynamic duo our program has seen. I am excited to see where life and basketball take them. They are destined for great things and I'm thankful I was part of their journey. They put Waterloo basketball back on the map and have given this program hope. It's up to the returning players to carry the torch now."
Key returning players for the Bulldogs next season include junior Liv Colson and sophomore Kristin Smith.
Colson averaged nearly nine points per game to go along with five rebounds and 2.4 steals per contest.
Smith averaged 5.5 points and nearly five rebounds per game.
Eagles, Tigers fall
In other local girls hoops action, Columbia and Dupo ended their seasons in regional play.
In Class 2A, Columbia (20-11) played last Tuesday night at Althoff for a berth in the regional final, falling 52-44. Taylor Holten scored 18 points and Karsen Jany scored 14.
The loss was Jany's final game for the Eagles. She averaged 17.4 points per game this season and scored 1,363 career points at CHS.
Dupo (14-12) competed in Class 1A regional play at Okawville last Tuesday night for a berth in the regional final, falling 71-14.
The loss marked the final game for Dupo seniors T'Yonna Burris, Kyann Prater and Steffany Stansch.