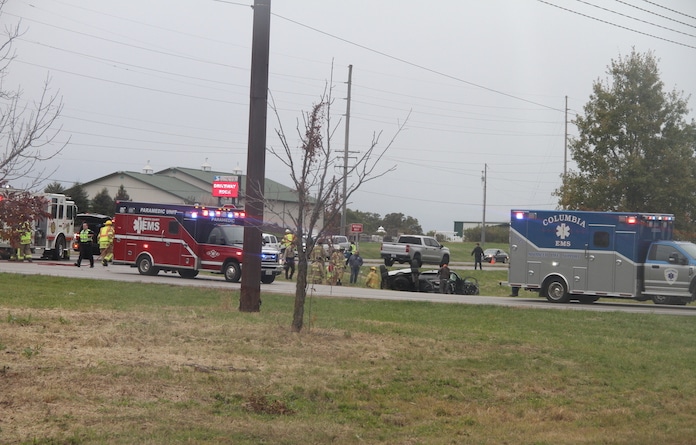 Monroe County EMS and Columbia EMS, the Waterloo and Columbia fire departments and the Monroe County Sheriff's Department all responded shortly after 3:30 p.m. Monday to a two-vehicle crash with multiple injuries and entrapment on Route 3 northbound at Hanover Road north of Waterloo.
One of the vehicles involved, a Jeep Wrangler, briefly caught fire shortly after the crash. The Wrangler rolled over and came to rest on its top.
All occupants of the two vehicles, five total, were transported to St. Louis hospitals.
Fire personnel cleared the scene shortly after 4:20 p.m., with both northbound lanes of traffic on Route 3 reopened at 4:30 p.m.
Police said a 2020 Ford Escape driven by Mary K. Frank, 66, was traveling east from Hanover Road across Route 3 to Coxeyville Road and failed to yield, resulting in a collision with a 2017 Jeep Wrangler driven by Amanda M. Lyle, 38, of Belleville, which was traveling north on Route 3.
Frank was transported to Mercy Hospital South in St. Louis County by Monroe County EMS. Her passenger, 42-year-old Jaymie K. Castens, was extricated from the vehicle by Waterloo firefighters and transported by Columbia EMS to Saint Louis University Hospital.
All occupants of the Jeep Wrangler, including passengers aged 15 and 6, required extrication. They were cut from their seatbelts, removed and transported to Mercy South. Lyle and one of the passengers went with Monroe County EMS. The other passenger went with Columbia EMS.
Lyle posted on Facebook following the crash that "the only reason all three of us are alive are because of seatbelts and (the Wrangler's) roll bars."