Following the March primary elections, U.S. Rep. Mike Bost (R-Murphysboro) is prepping for the 12th Congressional District race to be decided in November.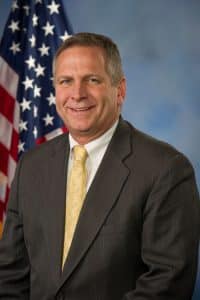 Bost handily defeated Libertarian Preston Nelson in the primaries and will now face Democratic St. Clair County State's Attorney Brendan Kelly. In the months leading up to the November election, Bost is highlighting the work he has achieved and hopes to achieve.
One of the issues his office took questions on from the Republic-Times is tariffs being added to Canadian newsprint.
In January, the Commerce Department applied tariffs to Canadian paper that could eventually increase the price as much as 32 percent. The tariffs would impact a majority of newspapers in the country which use Canadian paper to print their products.
The Commerce Department and International Trade Commission have put the tariffs on hold until they can reach a decision over the summer on whether to keep them.
According to Bost's communications director, George O'Connor, Bost will need to carefully consider any legislation on the tariffs before declaring how he will vote.
"Rep. Bost is aware of the local implications of tariffs on Canadian newsprint and will assess legislative options as they come up in the House of Representatives," he said.
Another item Bost discussed is gun control and school safety in the wake of increasing concern over gun violence in the country. Asked if Congress has plans to push legislation on gun control, Bost said he does not foresee that.
Bost explained he has already made it a priority to outlaw bump stocks, following the Las Vegas mass shooting in which the shooter used a bump stock to increase his weapon's rate of fire.
Bost said he and other members of Congress signed a letter encouraging the Bureau of Alcohol, Tobacco, Firearms and Explosives to reconsider its position on bump stocks.
The agency can choose to ban bump stocks using administrative rule, Bost said.
"When talking to a local gun shop owner, he told me, 'I don't sell (bump stocks) and they're a waste of money anyway because they can make a weapon inaccurate,'" Bost said during a visit to the Republic-Times office last week.
Bost also helped introduce a school safety bill that President Donald Trump recently signed into law.
The legislation, known as the Securing Our Schools Act, will help schools acquire panic buttons, offering a more efficient method of notifying law enforcement and first responders in cases of classroom violence, medical emergency or natural disaster.
"It doesn't have to be an active-shooter situation. It could be that a student is down or a teacher needs help," Bost explained.
Bost said he introduced the bill two months before the Parkland, Fla. shooting, and the bill was added to a broader package on school safety following the incident. He added the bill includes grant money for training teachers to identify at-risk students.
According to Bost, the bill secures a total of $71 million in grants, but the agency disbursing the money has not yet chosen what states will receive priority funding.
Bost also shed light on what Congress looks to do with Trump's infrastructure plan. Recently, Trump drew up a proposal he said would spur at least $1.5 trillion in infrastructure investments. The proposal calls for releasing $200 billion in federal funds for state projects.
Bost, a member of the House Commitee on Transportation and Infrastructure, recently told the Four-County Highway Coalition that the committee is focused on three legislative goals.
These include aviation and waterways legislation, and legislation on infrastructure based on Trump's proposal.
"We can get an infrastructure bill in place if we can agree on a revenue stream," Bost told the coalition.
Some possibilities Bost said the committee has discussed include a sales tax on vehicle tires or a battery tax, as Bost noted the motor fuel tax doesn't draw in enough revenue anymore with increased fuel efficiency in most vehicles.
According to opponents of the president's proposal, the $200 billion in federal money wouldn't constitute enough to justify states initiating new infrastructure projects. But O'Connor argued that the federal funding being proposed is enough to get these projects off the ground.
"The $200 billion is a positive step forward and should be considered a down payment on infrastructure," he said. "As a member of the Transportation and Infrastructure Committee, Rep. Bost will continue working with his colleagues to ensure Southern Illinois receives our fair share of federal funding to maintain our local infrastructure."