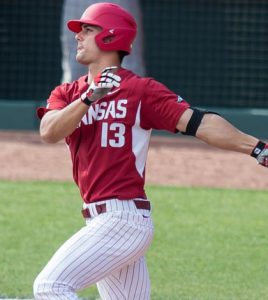 Former Waterloo High School baseball standout Jordan McFarland is showing off his power this spring at the University of Arkansas.
McFarland smacked a game-winning home run for the Razorbacks last Wednesday in a come-from-behind victory at Louisiana Tech. His blast came in the seventh inning and struck an apartment complex well beyond the left-centerfield fence, according to a radio broadcast of the game.
The Razorbacks are 8-3 so far this season and ranked nationally in one poll.
McFarland, a freshman, has appeared in seven games while rotating starts at first base.
He is hitting .304 with five RBIs and five runs scored.
McFarland isn't the only local baseball player enjoying success in the early going of the college season.
Former WHS teammate Tyler McAlister has thrown two scoreless innings with four strikeouts so far at Missouri State University.
Gibault graduate Zach Neff has a 3.48 ERA and a save in 10.1 innings pitched at Austin Peay State University.
Another Gibault grad, infielder Chandler Purcell, is hitting .435 in eight games played at Quincy University.
Tyler Hebel, a WHS grad, is 1-1 with a 2.87 ERA in three starts as a junior pitcher at St. Xavier University.
Another former Bulldog starting pitcher, Jeremy Rettig, is 3-1 in five starts at Columbia College with a 3.48 ERA.
Former Gibault hitting star Wes Degener continues to swing well at the college level. He is hitting .375 with 21 runs scored and nine stolen bases in 14 games at Lindenwood University-St. Charles.
At Lindenwood-Belleville, former WHS outfielder Ethan Ruff is hitting .245 in 16 games and leads the team with 13 stolen bases and 10 runs scored. His teammate Alex Wittenauer has two hits in seven games and has also pitched two innings in the early going.
Former Columbia High School hitting star Cameron Touchette is batting .333 with 18 runs scored and eight stolen bases in 14 games as a freshman outfielder at John A. Logan College.
This year's Southwestern Illinois College roster is chock full of local baseball talent.
A leading pitcher on last year's WHS squad, SWIC freshman Noah Thaggard is 1-0 with a 2.45 ERA and 12 strikeouts in three starts this season.
SWIC sophomore southpaw Corey Vogel of Waterloo is 1-1 with a 2.84 ERA in 6.1 innings of relief, including head coach Neil Fiala's 1,200th career victory.
SWIC freshman Mark Nappier of Valmeyer is hitting .250 with a double in four games played.
Another SWIC freshman, Freeburg's Keegan Baxmeyer, is off to a .273 start at the plate with a home run and six RBIs in six games played.