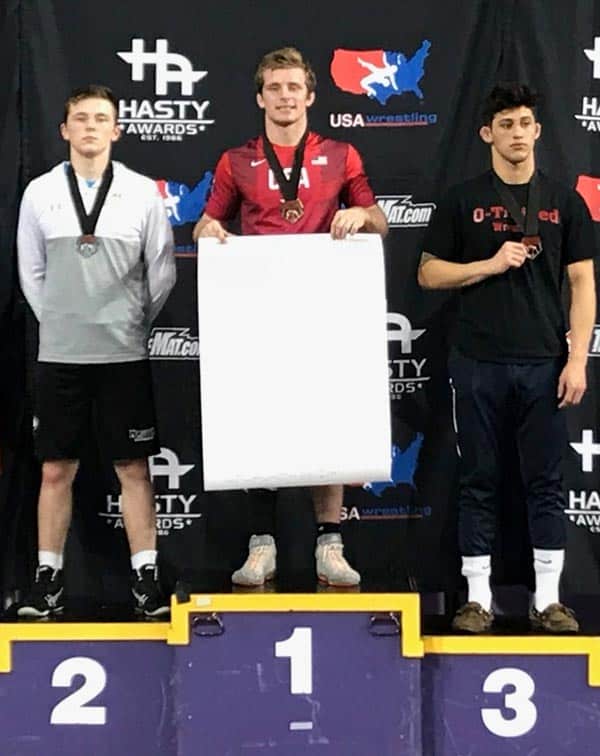 A high school wrestler from Valmeyer is enjoying success in the sport across the river, which has attracted attention from some big name colleges.
"He's got a ton of offers," said Jerry Peterson, the father of De Smet Jesuit High School junior Cory Peterson.
Notre Dame, Maryland, Northwestern, Lehigh, Army, Navy and Air Force are just several of the universities expressing interest in the young wrestler.
Cory won several national youth wrestling events prior to attending De Smet, and has come close to winning a Missouri high school state title twice already.
"He's favored to win state this year," his father told the Republic-Times.
Cory placed fourth in the state as a freshman and lost in the state final last season after going 42-6 in the 160-pound division.
He won first place in the 2017 USA Wrestling Preseason Nationals on Oct. 28. The competition was held at the University of Northern Iowa and included wrestlers from 40 states. 
There were 84 wrestlers in his weight bracket, Jerry said. 
On his way to winning the top medal, Cory defeated Josh Ramirez of Louisiana in the semifinals. Ramirez is ranked ninth in the nation and has committed to Ohio State.
"In the short time that I have known Cory, I have found him to be an extremely dedicated individual who is passionate about both the sport of wrestling, and those around him," De Smet head wrestling coach Dr. Aedryan Cox said. "This prestigious accomplishment is extremely well deserved, and the sky is the limit for Cory in his future endeavors."
Cory trains with NAIA national champion wrestler Michael Pixley, who now attends McKendree University after transferring from Grand View University in Iowa.