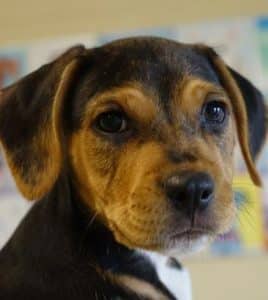 Kalabar is a 10-week-old adorable puppy. He loves to romp and play with other dogs. This cutie pie is living in a foster home in the beginning stage of house training.
Kalabar is a terrier/hound mix and would make a great addition to any family.
Puppies need proper training and socialization to grow into fabulous adult dogs. It takes dedication and effort and is a lifelong commitment. Helping Strays recommends socialization and obedience training to encourage good behavior and strengthen the human-animal bond.
Some Helping Strays pets are in foster care. If you are interested in a specific pet, please contact the shelter at (618) 939-7389 to arrange a meeting.
To lean about the process of adding a new pet to your family, click here.
To fill out an adoption application on the Helping Strays website, click here.
For more information about how you can help out at Helping Strays, click here.
Helping Strays shelter is located at 4221 Hanover Road, off the west side of Route 3, between Waterloo and Columbia. Their hours are Wednesday, Thursday and Friday, from 11 a.m. to 7 p.m.; Saturday from 11 a.m. to 6 p.m.; and Sunday, form noon to 4 p.m. The shelter is closed Monday and Tuesday.