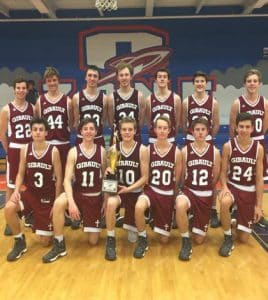 The Gibault boys basketball team is clicking on all cylinders entering the home stretch of the regular season.
The Hawks won four games to take the Okawville Invitational Tournament title, including a Saturday victory over the host team.
Gibault opened tourney play last Monday night with a 71-46 win over Madison. Trevor Davis scored 23 points, pulled down 14 rebounds and dished out six assists in the win.
Ryan Gool added 15 points, including 3-for-3 shooting from three-point range.
The Hawks led 35-15 at halftime and shot 56 percent from the floor for the game.
The Hawks edged DuQuoin on Thursday night, 51-48. Gibault trailed 29-27 at halftime.
Davis,who was named to the all-tourney team, again led the way with 22 points. Gool added 13 points in the win.
On Friday, the Hawks posted an impressive 53-41 win over Wesclin to advance to the championship game. Gibault led 28-16 at halftime and shot 55 percent from the field for the game — including 6-for-9 shooting from three-point range.
Davis scored 15 points, pulled down nine rebounds and dished out six assists. Collin Kessler added 11 points.
On Saturday, Gibault avenged an earlier defeat This season by taking down Okawville, 48-42.
The Hawks stormed out to a 15-4 lead after one quarter and led 25-14 at halftime.
The Rockets made a fourth quarter surge, but the Hawks (14-6) held on for the victory.
Davis posted another solid all-around game, finishing with 16 points, eight rebounds, three steals and three blocks. Kessler added 12 points; Gool chipped in with 11 points.
"(Our) defense is getting better," Gibault head coach Dennis Rueter said. "We had good offensive patience against Okawville. We are potentially as good offensively as any team we have had here in the last 10 years."
The tourney wins put Rueter's career coaching wins total at 695, with games at Chester on Friday, at home against Red Bud on Saturday and at home against Triad on Tuesday up next.
The Hawks do battle with cross-town rival Waterloo on Feb. 7.
Davis is averaging 18.3 points and 9.5 rebounds per game to lead the Hawks.
Columbia participated in the challenging Chick-fil-A Classic at Belleville East High School, losing all three games.
The Eagles (10-9) opened the tourney with a game against Chaminade last Tuesday, falling 78-37.
The Eagles lost a tough 69-62 contest against St. Mary's on Thursday despite leading scorer Jordan Holmes tying his career high with 30 points.
On Saturday, Columbia dropped a 57-55 game to McCluer. The Eagles shot 52 percent from the floor and were tied 29-29 at halftime in a strong effort.
Holmes led the way again with 20 points and 10 rebounds. Jon Peterson added 15 points for the Eagles, who played at Red Bud on Tuesday.
Holmes is averaging 21.5 points per game on the season.
Waterloo went 2-2 at the Sparta Winter Classic to take fifth place.
Waterloo opened tourney play last Tuesday against Steeleville, falling 63-60. Ross Schrader led the Bulldogs with 19 points.
The team continued tourney play last Wednesday, winning 60-30 over Trico. Schrader poured in 22 points to lead the way again for the Bulldogs.
Waterloo dropped a 62-54 decision to Murphysboro on Thursday despite shooting nearly 56 percent from the floor as a team and having four players reach double figures in scoring.
Dylan Hunt scored 15 points to lead the 'Dogs, followed by Ben Huels with 14 and Griffin Lenhardt and Schrader with 11 points each, respectively.
Waterloo (7-12) played a conference game at Highland on Tuesday and will be at Civic Memorial this Friday night before hosting Granite City on Tuesday.
The Bulldogs have balanced scoring between Huels (12.7 points per game), Schrader (12.2 ppg) and Hunt (11.7 ppg).
Valmeyer improved to 9-10 on the season with a 55-36 win at home over Father McGivney on Friday.
Owen Miller scored 19 points and pulled down 13 rebounds for the Pirates. Vaughn Larsen added 15 points.
Valmeyer played at Steeleville on Tuesday and will be at Lebanon on Friday before traveling to New Athens on Jan. 31.
Dupo improved to 4-13 on the season with a 47-44 win over New Athens on Friday.
The Tigers are playing in a tourney all this week at Herculaneum, Mo.