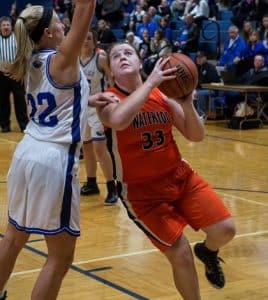 The Bulldogs are on a nice little winning streak entering Thursday's game against cross-town rival Gibault.
Bolstered by a scoring milestone, the Waterloo girls basketball team improved to 10-9 on the season with wins over New Athens last Tuesday, Valmeyer on Saturday and Mascoutah on Monday.
The Bulldogs outscored New Athens 27-15 in the second half en route to a 47-35 victory. Kat Finnerty led the way with 17 points and eight rebounds and fellow senior Taylor Augustine added 16 points.
"My players have been playing hard lately and putting forth the effort on the defensive end of the floor," Waterloo head coach Matt Lucash said.
Augustine was the star of the day Saturday in Valmeyer. She drilled a three-pointer to record her 1,000th career point at WHS and ended with 17 points in a 39-30 win. She was 3-for-7 from three-point range during the game and is the second-leading scorer all-time for WHS girls basketball behind Jennifer Conway.
Augustine, who is averaging 11.4 points per game this season, also scored 17 points in Monday's win at home over Mascoutah. She was honored for her 1,000-point milestone prior to the game.
The Bulldogs won, 70-35. Charley Gregson added 13 points and 10 rebounds; Finnerty added 12 points and 12 rebounds.
"I don't know if we have ever scored 70 points since I have been the coach, but I had players that were making shots," Lucash said. "Charley Gregson rebounded the ball well and ended up scoring a career high. I've been real happy with her effort this season."
Waterloo plays at Gibault on Thursday.
The Hawks are 10-11 after losses to Freeburg on Thursday, 57-37, and Roxana on Monday, 39-34.
Ashlyn Wightman scored 14 points, grabbed seven rebounds and added four blocks in the loss to Freeburg.
Wightman led the way again in the loss to Roxana with 12 points and eight rebounds. Emmi Stuart added eight points and three blocks.
Columbia is 15-8 on the season after losing two of three recent games.
The Eagles lost to Jerseyville last Tuesday, 54-45, despite leading 30-24 at halftime. Columbia shot less than 30 percent from the floor for the game. Sophia Bonaldi scored 11 points in the loss.
On Thursday, the Eagles lost to Civic Memorial, 66-35, shooting just 27 percent from the floor.
Columbia got back in the win column on Monday, 53-41 over Carlyle. Bonaldi led the way again with 17 points.
The Eagles play  at Freeburg on Monday.
Valmeyer is 4-13 on the season following four recent losses. The Pirates fell to New Athens last Wednesday, 56-22, followed by a narrow 43-36 defeat against Steeleville on Friday.
On Saturday, Valmeyer lost 39-30 to Waterloo. On Monday, the Pirates lost 35-20 to Marissa.
Bethany Brinkmann leads Valmeyer in scoring this season at nearly eight points per game. The Pirates host Dupo on Thursday.
The Tigers remain winless on the season following recent losses to Lebanon and Sparta.
Mariah Jones leads Dupo (0-21) in scoring at nearly six points per game.